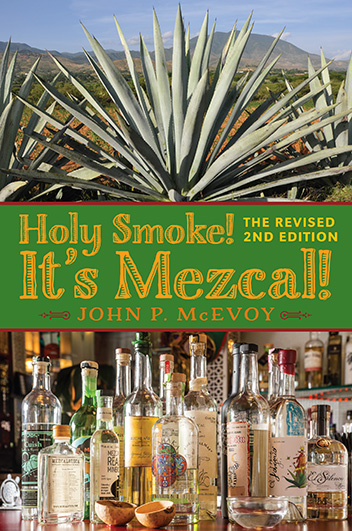 Do you already love mezcal?  Or are you just scratching the surface and are curious to learn more?  Either way, Holy Smoke! It's Mezcal! is the book for you. And it's available NOW!

Here's what a few of the leading mezcal experts have to say:
"An amazing accomplishment — a book on mezcal that goes deep yet remains simple. John's passion and love for mezcal comes through on every paragraph, every page." ~Raza Zaidi, Co-owner, Wahaka Mezcal
For those of us that have lived and love mezcal, we finally have a book.  John gets it.  He has done his research, and his fanaticism and passion is contagious.  The highest accolade is acknowledging that the student has become the teacher – the Mezcal PhD has just earned his degree! ~Steve Olson, aka wine geek, Co-founder, Beverage Alcohol Resource
"The best book on this beautiful artisan spirit. Comprehensive, informative, and light hearted. The perfect guide for laymen and aficionados alike!" ~John Rexer, founder Ilegal Mezcal
"For Mezcalophiles everywhere, this is an important book; a playful, yet responsible synthesis of the history, lore and science that infuses every bottle of this great world spirit." ~Jonathan Barbieri, Co-founder, Pierde Almas
There is an awakening happening with mezcal as people have begun to understand the quality, complexity and authenticity that embodies every sip of this beautiful spirit. But if you want to deepen your knowledge about mezcal there are few good resources. There is limited online information and the handful of books that are available (at least in English) are loaded with inaccuracies.  Not anymore. With my new book Holy Smoke! It's Mezcal! I have taken a deep dive into all things mezcal:
How is mezcal different from tequila?  While it is a simple question, the answer has depth from the denomination of origins to the governing laws to the regions and agaves.
How is an artisanal mezcal produced?  Rich with photos, diagrams, and details I walk through all the nuances of mezcal production and how the small choices a mezcalero makes can greatly impact the taste of a mezcal.
How many varieties of agave can be used to make mezcal and how does each effect the taste?  I have written a number of blog posts on the varieties of agave but they pale in comparison to my new research.  In Holy Smoke! I give renewed vigor to determining the number of agave varietals which are used to produce mezcal – it's the definitive list! (well as you will see, as definitive as such a list can be).  And I also introduce the concept of the "agave bell curve" which is a visual representation of the widespread taste profiles which each agave varietal imparts.
Are mezcal cocktails something you enjoy?   Over the years, I have been collecting mezcal cocktail recipes from bars and restaurants around the country and developing a few of my own as well.  Holy Smoke! contains an unparalleled collection of easy-to-make mezcal cocktails for the home mixologist.  I have curated this list to focus on approachability.  Often, I find amazing cocktails at bars and restaurants, but many are so intricate in terms of process or ingredients, that I am incapable of making them at home.  So my cocktail section has awesome drinks that you'll actually be able to make!  Imagine that.
Are you curious which mezcal brands can be found in the U.S?  The book takes a fresh approach to all the brands found in the U.S. and the many offerings within each brand.
What is the history of mezcal?  Mezcal has a rich and storied history starting in the 16th century, or perhaps sooner.  Here, I explore this history from Mayahuel to the birth of tequila to modern times.
And of course there is much more!  In all, seventeen chapters plus an Appendix that looks at the economics of the mezcal category compared to the rest of the spirits world including statistics on the volumes of individual brands.
Of course, like this blog, the book is a fun and irreverent read so I doubt it will bore you.  Also, it looks great!  I had the good fortune of working with a top notch team including A-list food and spirits industry photographer Noah Fecks, renowned book designer Patty Fabricant, and former Associated Press editor Dave Ivey.  We've collectively put together an amazing book! It's in vivid color and looks fantastic.  And, there is a Kindle version as well.
I hope you buy it and I am sure you will enjoy it!  If you have any questions, you can always email me at john@mezcalphd.com