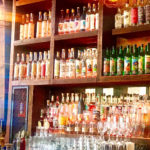 People are always asking me where I drink mezcal in NYC, so it is odd that I have never done a full blown blog post on this topic. A lot of things are odd though. For instance, a treadmill has a warning sticker that you should stop if you feel faint or dizzy. But isn't that the whole point of a treadmill? So that is odd. Now I do have a link in the menu bar on my home page which lists mezcal joints around the U.S (and the world), but this is a more in-depth look at my mezcal backyard – NYC!
Of course, the BEST place to drink mezcal is my apartment – topping 400 bottles now – but I cannot invite everyone. I wish I could. The Mezcal Muse will kill me! So let's set that option aside and see what else I can come up with.
The best places feature quality over quantity, but as luck would have it, anyone with quality usually has a fair amount of quantity too. Why is that? It's because the range is flavors to be found in mezcal is so vast, and the number of outstanding mezcal producers is quite plentiful, so if a bar has a quality mezcal selection, they almost certainly have a line-up of substantial depth as well!
Certainly, I come across restaurants or bars with a handful of nice bottles, and I love it when I see it. But such a place is probably not going to be where I send people who are looking for a great mezcal joint.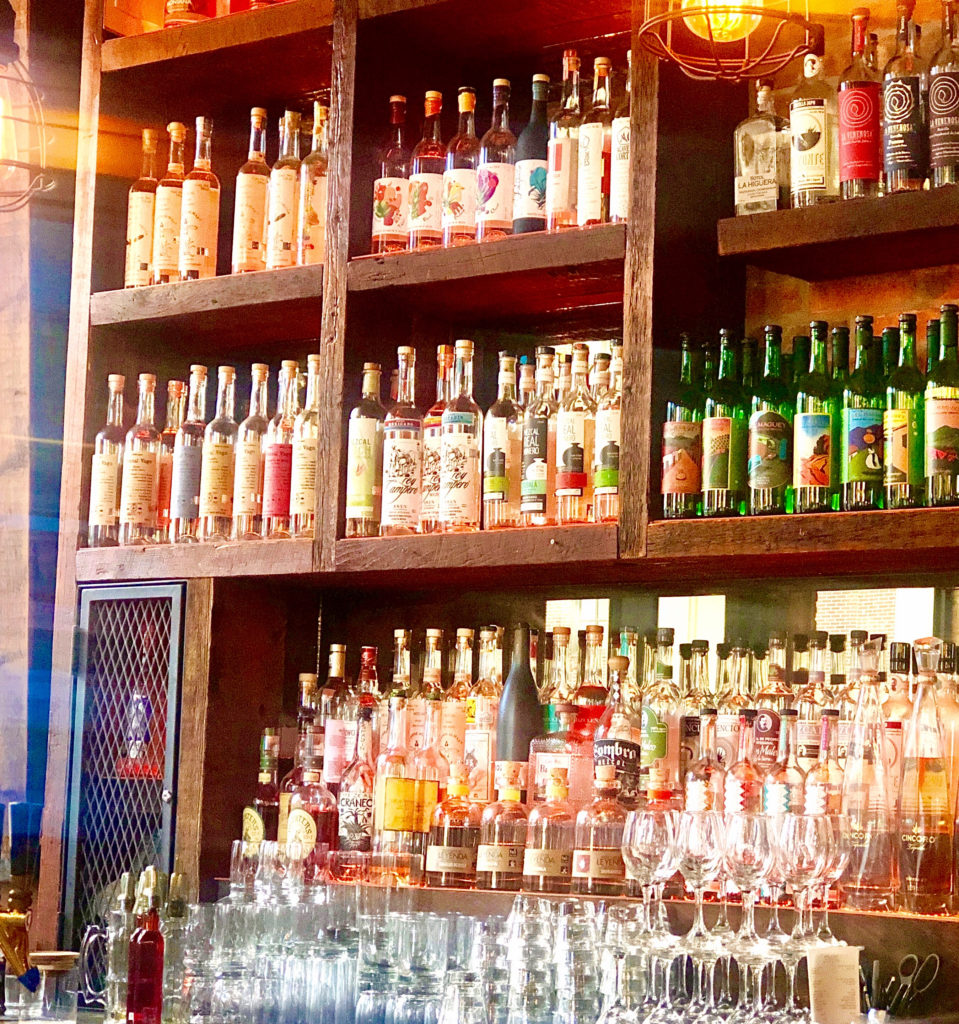 So where am I going to direct you? Well, first I have to preface this with the fact that I live in lower Manhattan. So pretty much anywhere north of 23rd street is like going to Canada for me – bring the passport. Yes, there are some places to be found uptown, but most of my mezcal drinking gets done downtown. But still, I do not know of any super mezcal-y joints uptown (I am happy to be educated if you know any!). In conclusion, while my list is downtown-centic, this is where the best mezcal can be found anyway!
Also, there are now a lot of great mezcal joints to be found in Brooklyn, but those are also not my strong suit – too far, not necessarily subway convenient, too many bridges and tunnels. You get the picture. I have been to most of these, but they are not in my steady rotation. Yet, I will mention them below. So without further ado, this is where to find mezcal in NYC!
Any place that says "Mezcaleria" on an exterior sign gets my attention. I was psyched when Anejo came to the neighborhood in August 2014. I needed a local haunt with some mezcal and great Mexican food and they have not disappointed! They have a sister property in Hell's Kitchen with a similarly fantastic mezcal selection.
In Tribeca, Angel Mejia and Raul Palacios run the bar, and it hums with friendly efficiency, flowing mezcal, and a knowledgable and deep appreciation for my favorite beverage. While they have an excellent cocktail and margarita selection, mezcal is my focus (if you can imagine?). They have all the high end stuff: El Jolgorio, Real Minero, Del Maguey, Rey Campero, Vago, Pierde Almas, Derrumbes, and many more. And they also keep it super fresh by bringing in new offerings all the time. Finally, I also greatly appreciate that what's on the mezcal menu also squares fairly well with what's on the shelves – this is not always the case. They stay on point.
It's a great place with excellent mezcals, a lively and aesthetically pleasing atmosphere, and yummy food. I hope to see you there – just don't take my seat on the corner of the bar!
Anejo Tribeca. 301 Church St. (Church and Walker), NY NY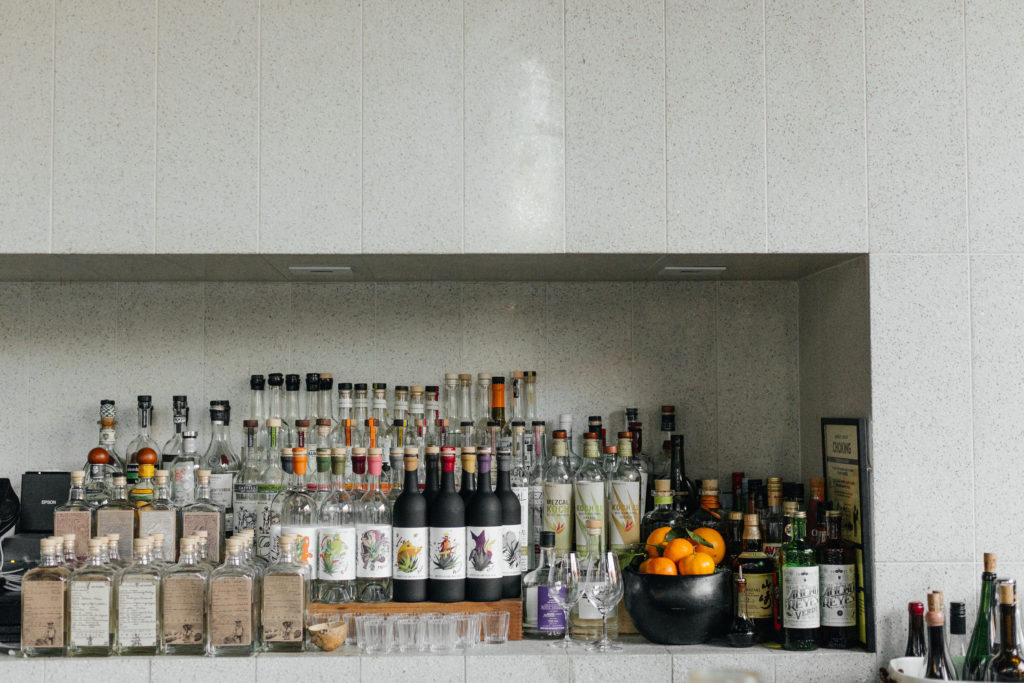 This is the more casual sister restaurant of the very upscale Cosme, which is further uptown. A beautiful space on the corner of Lafayette and Great Jones, it practically screams "Come drink here"! They take their cocktails seriously, and while I usually want to drink mezcal while there (and everywhere), I always start with a cocktail at Atla. They are delicious, creative, and oh so mezcal-y.
And their mezcal list is on point too. While the selection is perhaps not quite as large as Anejo, they have carefully chosen every bottle. So when you want to experience mezcal, and taste a wide array of brands and varietals, Atla will not disappoint!
Atla. 372 Lafayette St (Lafayette and Great Jones), NY NY
This is a pair of restaurants serving excellent Mexican food, nice cocktails and a well rounded mezcal list in two fun spaces. The original La Contenta on the Lower East Side is teeny tiny – maybe seating for 20 – and it can be packed and a bit raucous (in a good way!). La Contenta Oeste is on 6th Avenue and is probably 5 times larger than the original, and you can actually make a reservation on Open Table!
The original location is more of an experience given it's less gentrified neighborhood and small footprint. While you may have to wait for a table, it's worth it. The 6th avenue location is certainly more refined, more convenient and plenty of fun too! I will happily take either.
La Contenta. 102 Norfolk St (just north of Delancey), NY NY La Contenta Oeste. 78 W 11th (at 6th Avenue), NY NY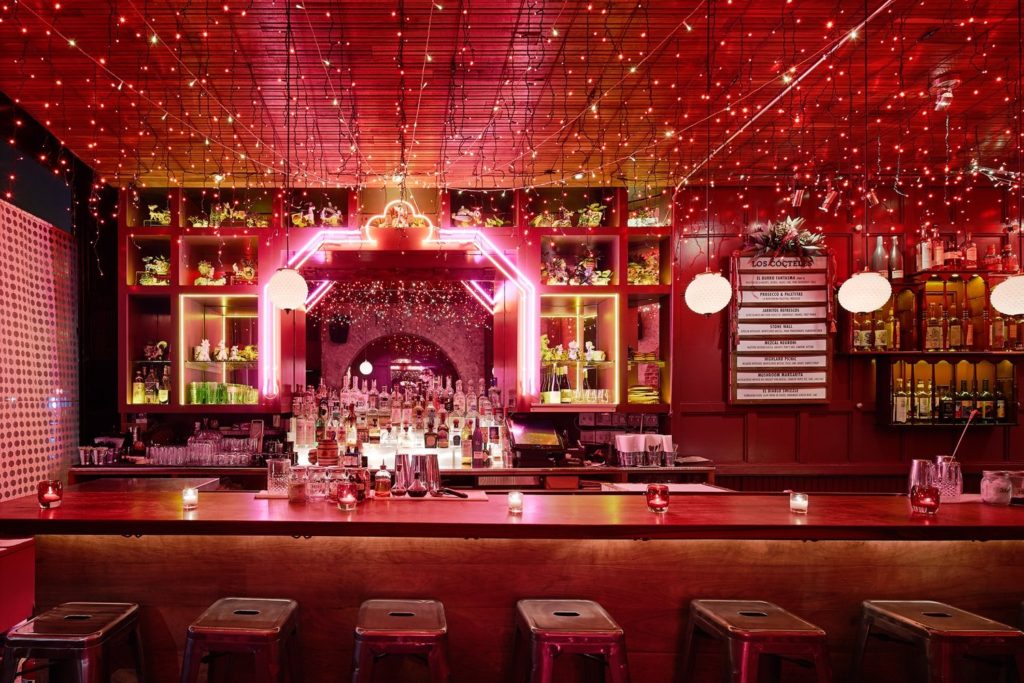 I don't know how they came up with the name, but I like the result! This is a very funky bar on Bleeker Street near Bowery. It has become so well known they opened an offshoot in Las Vegas. This is another place which merges a high-end cocktail bar with an agave spirit focused menu. They also have a a food menu which is not much more than small bites but is fantastic.
Ghost Donkey. 4 Bleeker St (just east of Bowery), NY NY
From celebrity chef and serious mezcal aficionado Alex Stupak, we have a pair of high end mezcal joints with serious Mexican food. Both have outstanding mezcal programs that will not leave you wanting.
Empellon Taqueria in the West Village was the original outpost, and Empellon Midtown (2017) thankfully opened just off Madison on 53rd Street and brought some much needed mezcal culture to that area. Both are exceptional. Empellon also has two dive taco joints: one in the East Village and one on E 39th St. – both are called Empellon Al Pastor. The East Village location is a personal favorite. Unlike Taqueria and Midtown, the mezcal selection at the Al Pastors are basic but the tacos and the vibe kill.
Empellon Taqueria. 230 W 4th Street (corner of W 10th), NY NY Empellon Midtown. 510 Madison Ave (on 53rd just east of Madison), NY NY Empellon Al Pastor. 145 E 39th St (between Lex and 3rd), NY NY Empellon Al Pastor, 132 St Marks Place (at Ave A), NY NY
Casa Mezcal is a very cool, funky mezcaleria on the Lower East Side. It was one of the first in NYC dedicated to our fine spirit, and they have an extensive mezcal selection with great food too.
While the mezcal selection is deep, their mezcal menu is usually disconnected from what they actually have in stock. So you really have to go with what your eyes see behind the bar and order accordingly. Of course that can be a challenge if you are new to mezcal and cannot identify brands and labels. I love this place but they could really elevate their stature if they straighten this out!
Casa Mezcal. 86 Orchard St, NY NY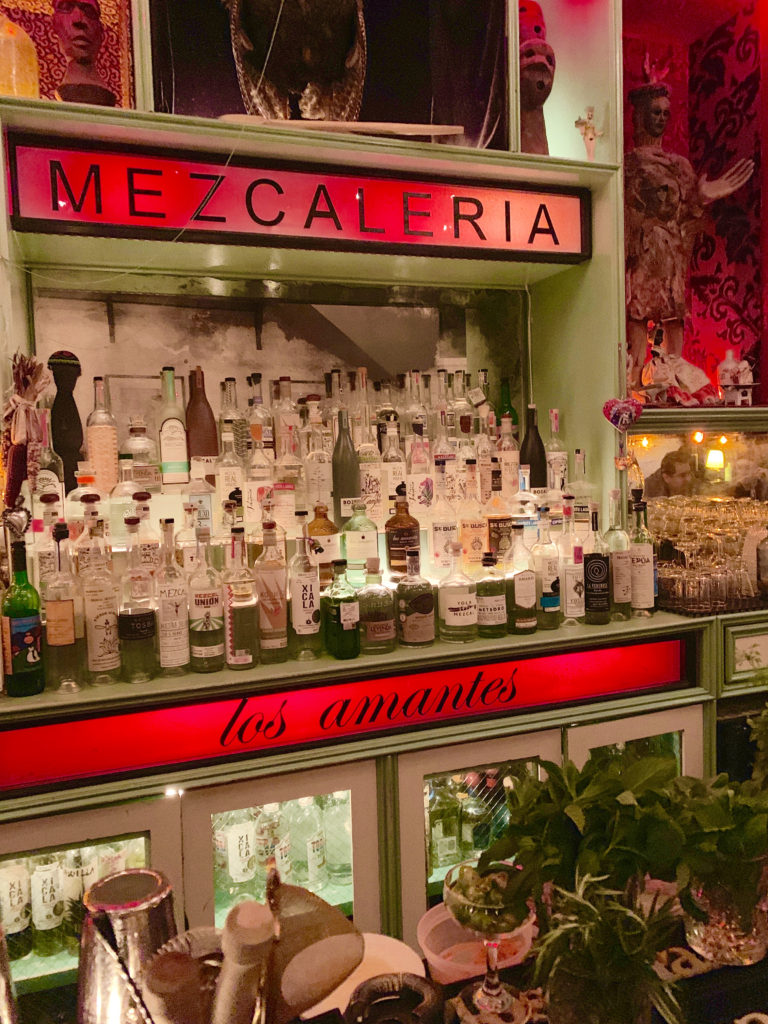 As mentioned above, Cosme is the mother ship and more upscale version of Atla. Cosme is very high end dining (with the associated prices) opened by Mexico City acclaimed celebrity chefs Enrique Olvera and Daniela Soto-Innes. The food is amazing, and they have a mezcal list to match. Here, you are likely to find the mezcal prices have been elevated as well and are higher than most of the other places on this list. But whether at the restaurant or the bar, the experience is also elevated so you probably won't mind paying a little more for this sleek and elegant dining and bar scene.
Cosme. 35 E 21st Street (between Park Avenue South and Broadway)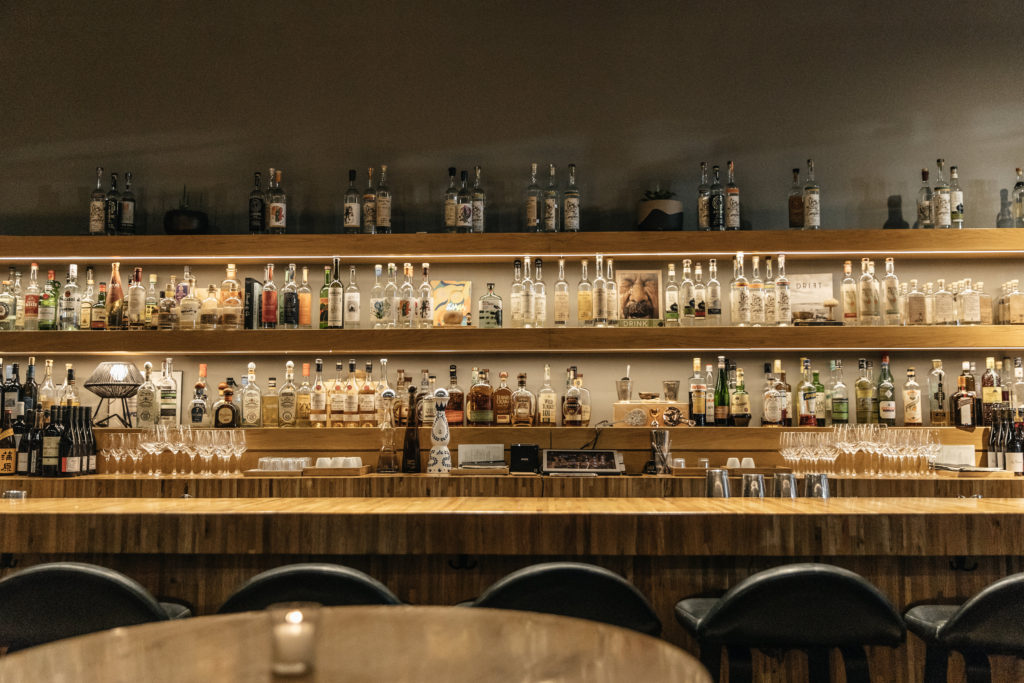 El Vez has a long and lively bar, but is also very family friendly. While their mezcal selection is not as extensive as some of the others on this list, it is still quite good. Plus there food is fantastic so it is always a go-to for me.
El Vez. 259 Vesey Street (just north of Brookfield Place), NY NY
Rosa Mexicana has been a staple of the NYC Mexican Food scene for as long as I can remember. While their other outposts seem to be a bit hit and miss with their mezcal selections, the Tribeca location has it right! They have an outstanding mezcal collection with all the good stuff and more. And downstairs, they have a cool speakeasy vibe in a bar they call Masa y Agave.
Rosa Mexicano. 41 Murray St (between Church and W. Broadway), NY NY.
The Brooklyn Mezcal Scene
As I mentioned, Brooklyn is not my strength, though there are some excellent mezcal joints to be found there. Here is a quick list:
Claro. Opened to critical acclaim in 2018, Claro has an outstanding mezcal scene and intriguing Oaxacan cuisine. 284 3rd Ave, Brooklyn, NY
Leyenda. One of the more creative and thriving agave-focused cocktails scenes you can find. It's rare that I find a place with a great mezcal selection where I might actually prefer a cocktail. They are that good. Worth the trip. 221 Smith Street, Brooklyn, NY
La Loba Cantina. Specializes in Oaxacan food with a top notch mezcal list.
So that about wraps it up. This should be more than enough to get you going. If I missed something obvious, please let me know. In the meantime, drink mezcal!