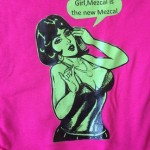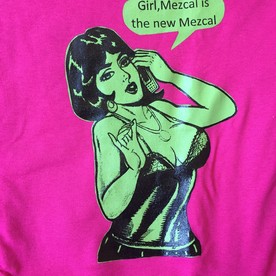 Last year was the first edition of the mezcal-y holiday gift guide and it was a rousing success.  Due to the overwhelming demand (can you believe a total of 3 people have asked me about it?!), I am back this year for Round 2!
So are you looking for that special gift for your favorite mezcal aficionado?  Or maybe you are the mezcal-crazed one (we are therefore destined to be friends) and you want to introduce and share your passion with the up-and-comers or uneducated? Well, there is no better way to celebrate the holidays than to give or receive some cool mezcal swag!
So I have scoured the mezcal universe to find a few tidings of agave joy that may make this holiday season a mezcal-y one to remember! Without further ado, here are a few ideas:
Why not start with something a little self-serving…my book! Yes, this is the book I wrote, published in the summer of 2014. While I would give it glowing reviews, don't listen to me. Check out the reviews on Amazon – 33 reviews and 30 of them are  5 stars!  You can't make this stuff up (well, you actually could, but I didn't!).  The book takes you through the history of mezcal, the ancient production process still utilized today, the types of agave used to make mezcal, the range of taste profiles driven by the agave varietals, a walk-through of all the brands found in the U.S., a crazy good cocktail section and much more! So if you are looking for a modestly priced ($35 on Amazon) mezcal gift, this is a good place to start.
Throughout the mezcal making regions in Mexico, you will find that a very common way to drink mezcal is in these cool little gourd cups- called jicaras.  They feel like a thin wood, and the have a rounded bottom so they roll around a tiny bit.  But as long as you have mezcal in them (and why wouldn't you) they balance quite nicely.  They are a pleasure to sip mezcal out of and a nod to the traditions of mezcal as well.  I have NEVER seen these sold in the U.S. and now my friend Eduardo at Artisanal Mezcals has them ready for you.  Yes, they are cheaper in Oaxaca, but you are not in Oaxaca – sadly, neither of us is.  So 4 cups for $10 is a bargain and you can  buy them HERE!  Also, check out the mezcals he has for sale.  Most of these are only available in the U.S. through his site, and he has some damn good mezcal there!
Copitas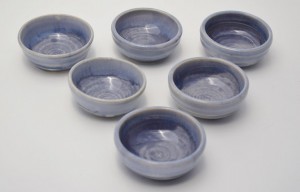 Now that you have jicaras, you may want to check out some cool copitas.  As you may know, another traditional way to drink mezcal is out of little clay cups.  The Del Maguey team has popularized this in the U.S., and it is indeed an enjoyable way to experience this fine spirit.  I came across these on Etsy, and I think you will like them as well.  Six copitas for $40 and you can buy them HERE!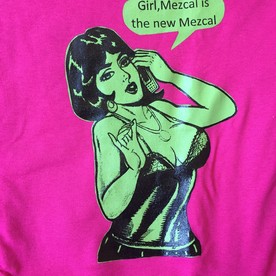 My friends at Mezcalistas have a fantastic blog, just hosted their second annual bitchin' mezcal event in San Francisco, and make some super cool T-shirts. As I tell them, they frequently make me jealous with their brilliant prose and in-depth analysis of the mezcal world. Plus, they are really nice people that you would be happy to drink mezcal with anytime! So in addition to fine writing, they also sell some cool, funky, mezcal-y T-shirts for $20. A modest investment for sure and a great gift! Here is a shot of one of the current prints.
Sal de Gusano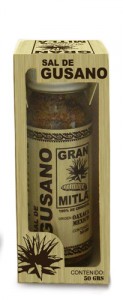 As many of you know, a traditional way to drink mezcal is with orange slices and sal de gusano, or "worm salt". You dip a slice of orange into the sal de gusano in between sips of mezcal to cleanse the palate. It is delicious, refreshing, and spicy all at the same time. The salt is made from salt, chili spices and crushed agave larvae. I know it sounds bad, but trust me, it's great! It basically tastes like spicy salt. Until recently, it was difficult to come by in the U.S., but now you can buy it HERE from Gran Mitla for about $14.  The team behind Mezcal Vago is importing this now – much respect mon!
Great Bottles of Mezcal (Round 1)
So many great bottles to choose from.  Lucky for you I have several guides geared to help you.  Check out my Mezcal Starter Kit for some great ideas if you want to give some moderately priced mezcal bottles as a gift.
Great Bottles of Mezcal (Round 2)
If you want to elevate your gift to another level, check out my post on Mezcal – Premium Edition. When price is no object, this is the place to look.  Some unbelievable bottles can be found here!  Anyone of these will make a fine gift.
Experience Mezcal Tours
Experience Mezcal is another uber idea for that very special person on your list – an exclusive mezcal tour in Oaxaca. The man behind these tours is Clayton Szczech, an American living in Mexico who is as thoughtful and passionate about mezcal as it gets. The tour includes unique and private palenque (distillery) tours, tastings, and amazing food among other things. Think of this as a complete mezcal immersion! Clayton has been organizing these tours for years, and having met him on several occassions, I have no doubt that this is a first class operation and an amazing experiece. You can read more about it on his site.  The 2016 dates have not been set, but you can contact Clayton and get a gift certificate.   That would be one AMAZING gift!!
Other Ideas? Let Me Know?
These are just a handful of ideas. I would love it if I knew of other special things that other brands are doing for the holidays – special products, special bottlings, or whatever! Send me an email at [email protected] and I will add it to this post. Or if you are simply a mezcal aficionado and have other ideas that fit in, send it my way! In the meantime, have a great holiday season and drink mezcal!