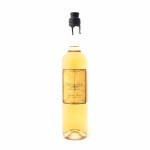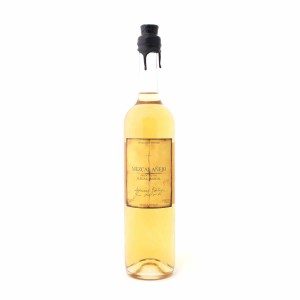 Oh man, just back from Oaxaca over MLK weekend and I am brimming with excitement and enthusiasm for what I learned, experienced and drank!  I tried rare mezcals, traveled to palenques that I had never been to, ate more chapolines (grasshoppers),  tried cicada salt (like sal de gusano but made with cicadas instead), and learned more nuances about the world of mezcal.  One of the great pleasures of my favorite beverage is that there is always more to be discovered, and this trip, like the many before it, delivered yet again.
We had a great time, but were basically drinking mezcal (hey, this is important research I am doing!) from about 11am onward each day until the wee hours of of the morning.  Sound like fun?  You bet it was!  (Shout out to my crew of Mike, Chris, Mario and Chris who were there in lock step with me).
I've been thinking about this and there is so much to share with my mezcal people (that's you) that I barely know where to begin.  So I decided to do a few posts instead of one looonnnnngggggg one.  So this one is about our trip to the palenque of Eric Hernandez where Ilegal Mezcal is made, which was beautiful, educational, and first class in every way.
In Situ
We arrived in Oaxaca on Thursday night, dropped our bags and headed out to In Situ to meet John Rexer, founder of Ilegal Mezcal, for our briefing on the next day's activities.  It went something like this:  "You guys ready?  You have shoes?  Have you read Holy Smoke! It's Mezcal!?  OK you are good to go."  He may have left out the Holy Smoke part.  In fact, maybe I made the whole thing up.  Who can remember?  We were drinking mezcal!
John is a passionate brand owner who fell in love with mezcal – the product and the tradition – while living in Mexico in the early 2000s.  Later after he started a mezcal bar in Guatemala, he realized he could not find any mezcal locally.  So he and his conspirators started smuggling it across the border to stock his bar.  At first it was a few bottles, but it soon turned into a full fledged Pirates of the Caribbean operation.   John has many funny stories about these early years of Ilegal, and they get better the more he drinks (John, have another!).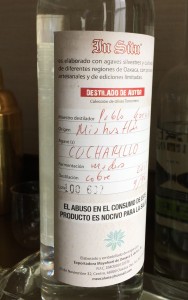 As for In Situ, if you have not been or have not heard, it is the best mezcaleria in the world with over 150 different bottles, each carefully curated by the owners, Ulises and Sandra.  Unfortunately, they were out of town for the weekend and the barman discharged us way too early into the Oaxaca night.  He was closing up, and we had only bought a bottle each and were preparing to do more tasting and more damage.  But he unceremoniously kicked us out – Ulises would have had the good sense to keep us drinking and keep us buying (plus I think he may actually like us).  So till next time In Situ…
The Ilegal Palenque
Ilegal is one of my favorite brands.  I love their products – a beautiful espadin joven with light smoke and hints of lemon peel, a butterscotchy reposado, and a transcendent anejo.  Some mezcal purists mistakenly look past Ilegal due to their aged mezcals – man is that a mistake.  I have long argued that aged mezcals expand the market and bring in people that otherwise may not be initially enamored with a powerful joven.  And Ilegal's reposado and anejo are amazing spirits by any measure.  By the way, Ilegal also has the best edgy guerrilla marketing and are not afraid to take a stand!  They amuse me.
So after a night at In Situ, the next day we met the van promptly an hour after the appointed time for our trip out to Eric Hernandez's palenque.  Eric, who produces Ilegal, is a fourth generation mezcalero who is also an engineer – an important fact which comes into play here.  Eric also holds the distinction of being the first certified producer:  he has NOM number 1 ("O01X" on the back of your Ilegal bottle).
Having been to many palenques in the past, I know Ilegal to be one of the most respected and innovative distilleries in Oaxaca.  Now this is "mezcal innovative", not "tequila innovative".   There are no hydraulic lifts, large machines, column stills, hardhats, guys named Joey, conveyor belts, or people with hair nets and rubber booties.  There is an earthen roasting pit, a tahona, an angry horse, wooden fermentation tanks, three copper stills, fruit trees, humming birds, a shrine, and an atmosphere ripe with smoke and roasted agave.  This is mezcal baby.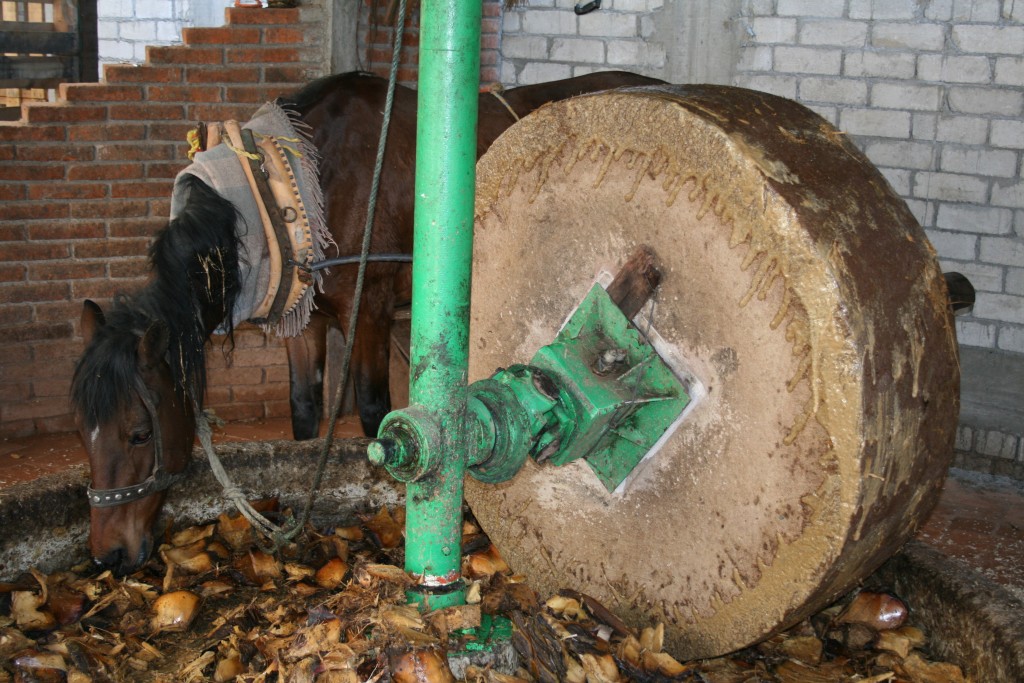 His palenque is mid-size (think basketball court compared to some that are more like a squash court), very well kept and clean, and has a few extravagances like a small bottling room that can fill four bottles at a time.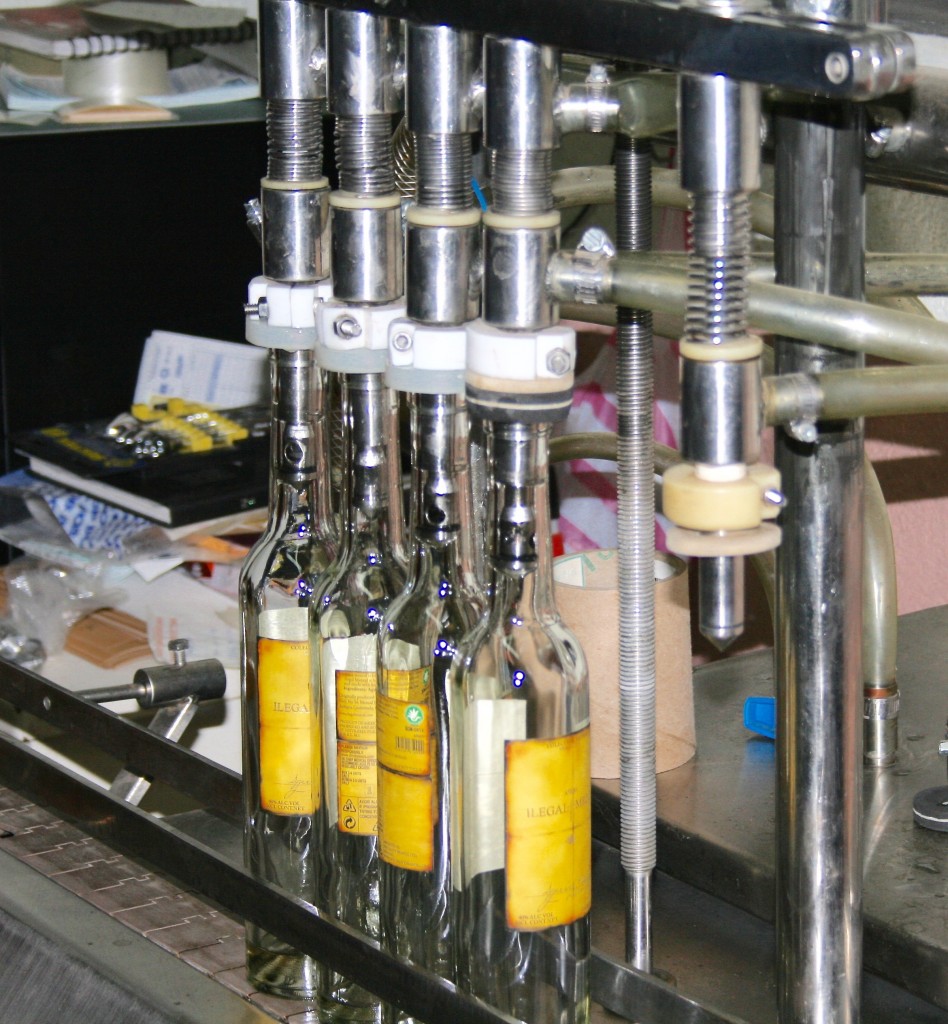 Eric is deeply committed to the traditional production process of mezcal, but he has made a few engineering tweaks to the artisanal process.  He also has pictures around the palenque of his grandfather in the 1930s serving mezcal from wooden barrels, which is interesting because some claim there is no tradition of aging mezcal, only tequila.  Were those barrels simply for storage?  Were they for purposeful aging?  I don't know but they are there.
He gave us a tour of the property starting with the earthen pit.  It was fully loaded and had been baking for 3 days already.  You reach down and feel the dirt mound and it is warm (so cool for a mezcal nerd!).  Eric's pit is the first example of where some of his engineering has been applied.  He has built a pit that has a sub chamber below the main pit – he lights the fire there.  This has the effect of creating less direct heat on the pinas and leads to a less smoky mezcal, which in my view is a signature of Eric's mezcals.  The indirect fire also allows for a permanent rock structure on which to pile the pinas.  In most mezcal pits, the rocks have to be replaced every few firings because they simply start cracking, breaking and disintegrating as they are sitting right on the flames.  In this pit, the rocks last a really long time which saves labor and river rocks.  The design of the oven, which produces a more radiant heat, allows him to use less wood, a good thing in my view given the substantial deforestation in Oaxaca.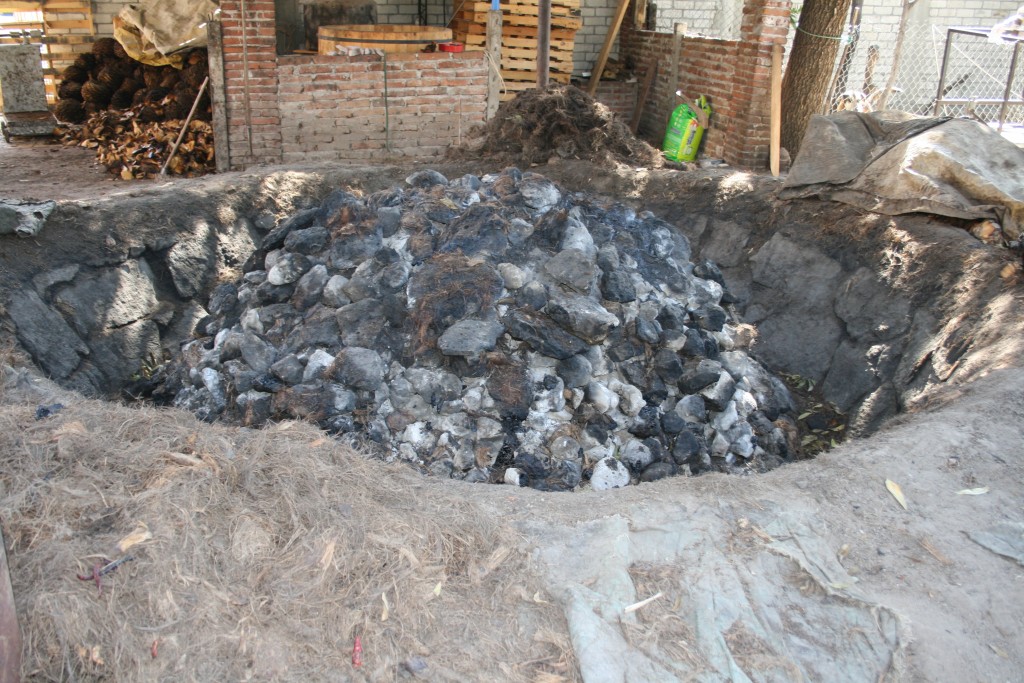 Another example of Eric applying his engineering skills to the production process is how he has made small adjustments to his copper stills.  Pictured below is one of the stills he uses for the second distillation.  Over time as a still ages, tiny flecks of metal will make their way into the distillation – it frequently evidences itself as sediment in a bottle of mezcal.  As you may be able to see in this picture, there are 2 clamps attached to the vapor tube of the still which brings a small electrical charge to the vapors and extracts any potential metal flakes.  Who thinks of this stuff?  I don't know if he developed this concept himself or read it in a book, but either way, it's pretty cool.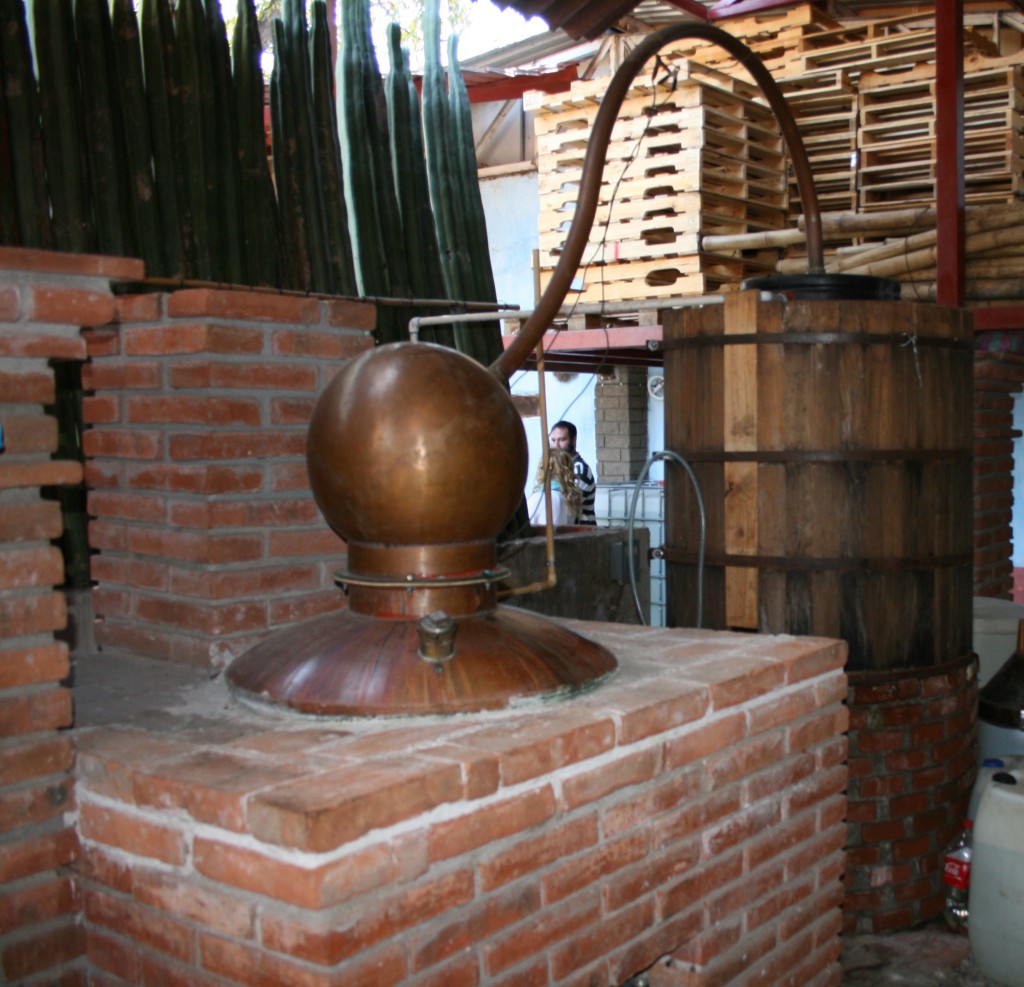 After our palenque tour, it was time to do some eating and drinking!  While lunch was scheduled for 1:00pm it was now about 4:00pm and we were starving (as a general rule of Oaxaca palenques, you can add 3 hours to any time estimates).  But it was all worth the wait.  Eric laid out a spread of beef, pork, chorizo, avocados, onions, salsa, and much more, which was all to be wrapped up in delicious homemade tortillas.  But wait, that's not all…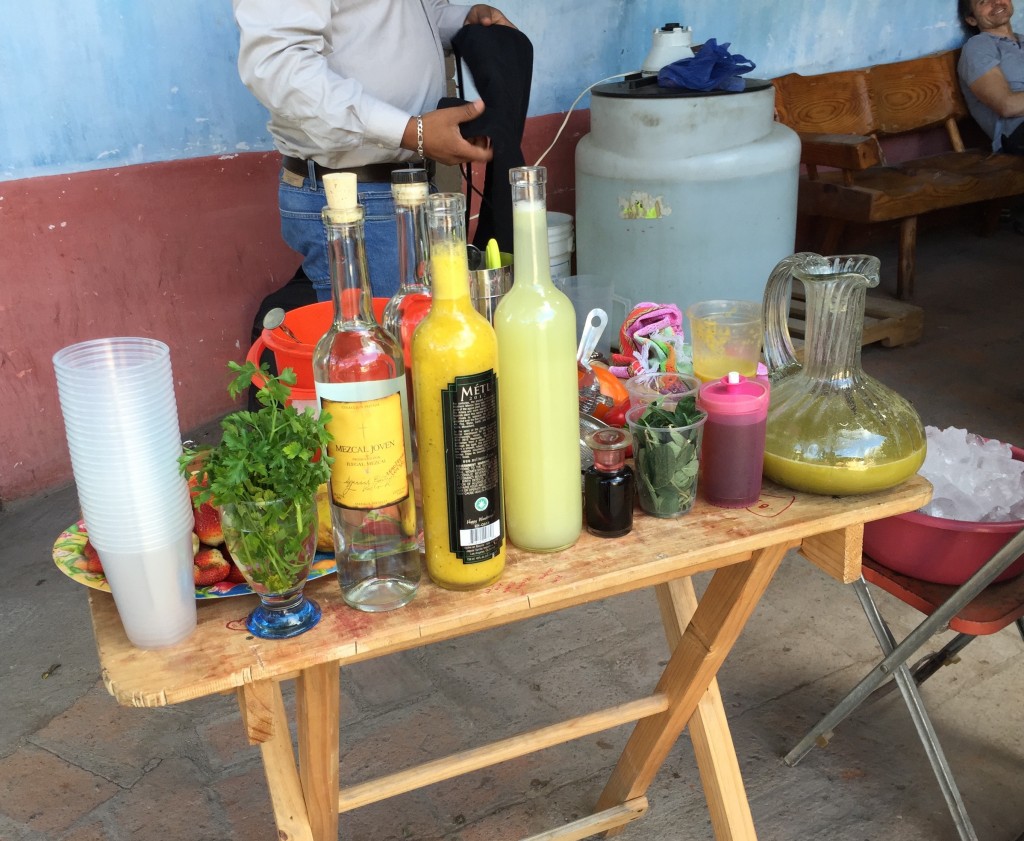 Eric also put out the Ilegal line plus a line of silvestre mezcals that he sells locally under a separate label.  Plus he had a bartender whipping up some yummy cocktails!  We felt special.  We felt pampered.
So we ate and drank and listened to some music too.  John had brought a few musicians along, who kept it lively and added to the positive vibe all around.
I found that all of Eric's mezcals have a beautiful consistency.  As his signature is one of light smoke, the flavor of the individual agaves shines through brilliantly.  His espadin is light and fresh with citrus and roasted agave.  The wild tepeztate under his local line is perfectly herbal and not overpowering.  He had an ensemble made with seven agaves that had great balance that I couldn't stop drinking.  And the list goes on.  All fantastic and oh so drinkable.
All in all, what a memorable day.  John and Eric were generous hosts with great hospitality, great food, and amazing mezcals.  I look forward to my next visit!
Next Post Coming Soon:  My visit to the Real Minero palenque.  Super cool!