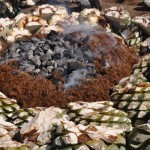 As you probably know, mezcal has a cult-like following.  Perhaps these sayings have emerged as a result of that, or maybe people are trying to further the education of mezcal, or maybe they are trying to capture the cultural and spiritual heritage of this spirit.  Or maybe they were just bombed when they came up with them!  Whatever it is, I don't know of any other spirit that actually has a growing body of descriptive phrases surrounding it.  Or maybe I have not been paying attention!  That said, here are a few of my favorites:
Mezcal is an acquired taste, but a taste worth acquiring.
If you drink too much mezcal, they don't say you are drunk; they say you are "closer to god".
For everything bad, mezcal.  For everything good, mezcal.
Based on the long growth period (8-12 years) for an agave plant to reach the age of harvest, they say that mezcal represents "drops of time".
You don't find mezcal, mezcal finds you!
Tequila is to wake the living.  Mezcal is to wake the dead.
More later….