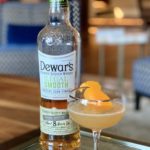 I imagine this post will draw some fire from some mezcal purists and maybe some Scotch purists as well, but I don't mind. As anyone who has read my musings over the years knows, I am all about category expansion and drinking what you like. So if a few Dewar's drinkers are exposed to the world of mezcal through this Ilegal / Dewar's partnership that's a great result! And if a few mezcal drinkers are drawn toward Scotch, that's cool too.
The Ilegal team was kind enough to send me a bottle of this collaborative effort. Now, I am always grateful when a brand sends me a sample of their product, but I have never written a positive post just because they do so. But before I get into my thoughts on this bottle, let's see how this came about.
I have no expertise in Scotch, and I welcome amplifications or corrections to my brief summary on how this happened (in other words, don't crush me, help me!).  Until recently, the Scotch Whisky Association ("SWA") would not have allowed for Scotch to be finished in a mezcal or tequila barrel. Why? Those were the rules even though Scotch could be finished in rum, bourbon, sherry or many other types of barrels that previously contained alcohol. So why not tequila or mezcal?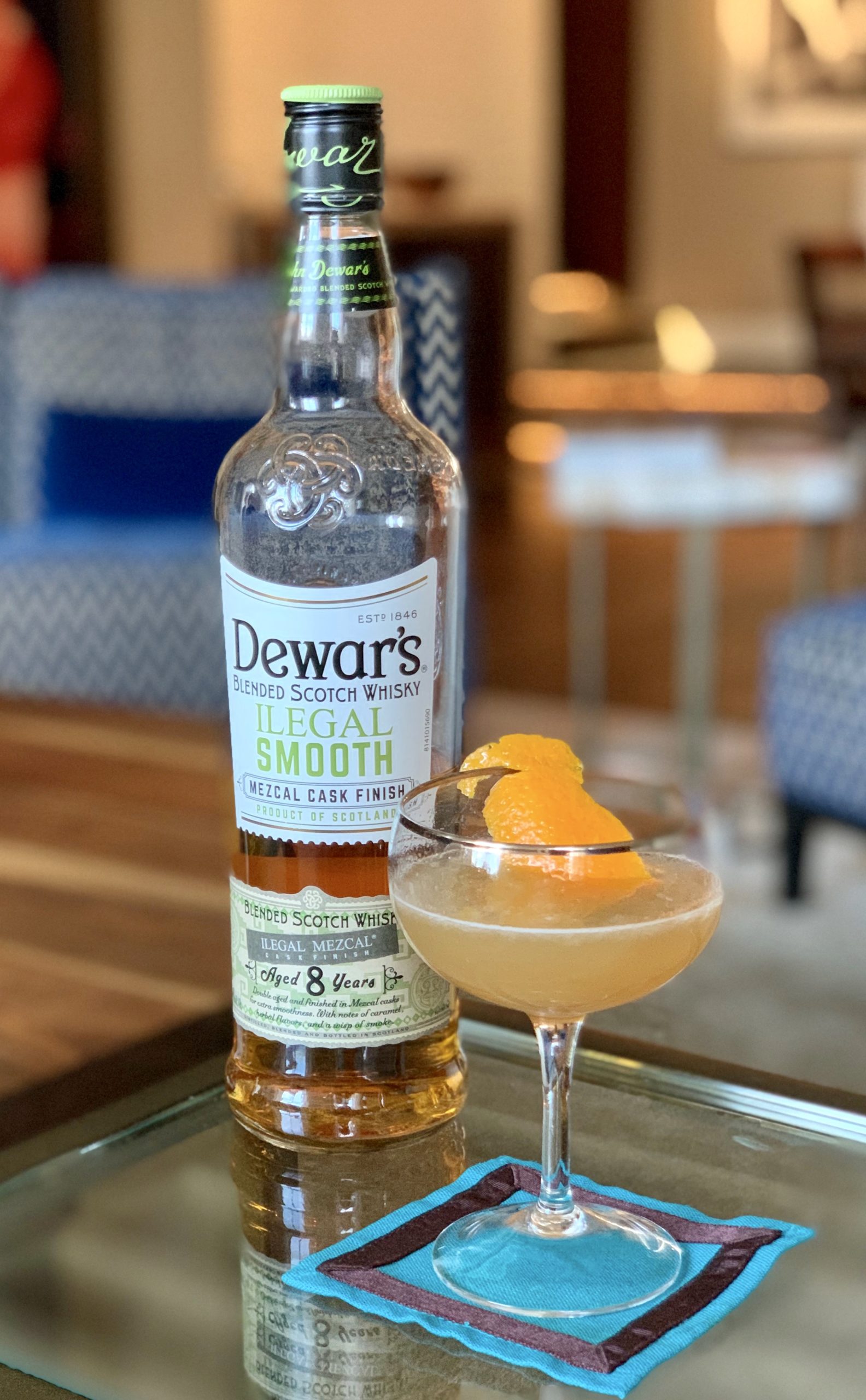 The Whiskey Advocate provides one possible reason: the SWA does not want to create confusion around where the product comes from. This seemingly came to a head in 2018 when Diageo wanted to finish Scotch in Don Julio casks. The Whiskey Advocate continues:
The SWA is notably more wary of listing a distillery than a wine region on a label, and has an extra tool at its disposal in regulation 9 (4): "Scotch Whisky must not be labelled, packaged, advertised or promoted in any other way that, having regard to the presentation of the product as a whole, creates a likelihood that the public may think that it has been distilled at any distillery or place other than the distillery or place at which it was actually distilled." Listing an actual tequila distillery on a Scotch whisky label could be seen to violate this rule. 
So I guess by finishing Scotch in a Don Julio cask and labeling it as such, people might think the product was made in Mexico. OK, maybe. But Diageo owns more than 25% of all Scotch production so their voice counts. It took awhile, but by mid-2019 the SWA changed the rules. You can read the technicalities HERE, but the bottom line is they added flexibility to age in more types of barrels including mezcal, tequila, shochu, and calvados, among others. Diageo won, and this opened the door for others to experiment as well.
Is this a case of a large spirits company throwing its weight around to alter hundreds of years of tradition in the name of profits? Maybe. It's easy to say this type of activity is always bad, but I don't think so in this case. Personally, I like experimentation in spirits, especially in mezcal, and this change by the SWA seems pretty harmless. Besides, they could already finish Scotch in rum and other types of casks as well, so why not agave spirits too? Let the market decide whether it is a good idea or not.
Today, I am unaware Diageo has taken advantage of this rule change and released a Scotch finished in a tequila or mezcal barrel. But the reverse happened as they released a Don Julio Reposado finished in a Lagavulin cask, so that's cool. Now that I know it's out there, I am curious to try it, but I don't drink tequila anymore so probably won't!
I don't know if Bacardi was watching from the sidelines or in the game with Diageo, but once the rules were changed they clearly put a plan in motion – in less than a year they brought together Ilegal Mezcal and Dewar's Blended Scotch Whisky (8 Years Aged) and created Ilegal Smooth. Now, Bacardi owns Dewar's and has an undisclosed minority investment in Ilegal so they had a path to get creative, and I'm glad they did.
But it was a serious undertaking – Ilegal shipped 400 barrels from Oaxaca to Scotland. 400 barrels! Perhaps there was a rabbit in each one? Such symmetry for one of agave spirit's great myths – the story of the 400 rabbits. Once the barrels got there, it took some tinkering for Stephanie Macleod, Dewar's master blender to get the taste just right. From a recent article in Forbes, she explains:
"When you assess both spirits side by side, I find there are a lot of parallels and complimentary layers between the two," she contends. "They're both very smooth and have reacted well to the casks that they've been in initially. Finishing a whisky is all about complimentary flavors and creating harmony, and I truly believe that this is what we've got in this product."

Finding that balance was a painstaking process. Once entered into the oak, she sampled product weekly to see how the liquid was evolving. The exact amount of time in barrel varies from batch to batch, but typically ranges between several weeks and a couple of months.

"This is an exciting time for the future of whisky and innovation," adds Macleod. "The new amendment opens up the use of cross-barrel aging to infuse new flavor into the liquid, while also adhering to the celebrated tradition of the flavor and quality that Scotch is known for. One of the main criteria though is that you must still be able to tell it's a Scotch whisky, so that's why it is important to keep a close eye on it during the finishing period, to ensure the mezcal doesn't dominate the whisky, and I'm glad to say that we have achieved the right balance."
I don't know if it is the right balance or the wrong balance since I am not a Scotch drinker, but I can tell you it is a good balance. For me, Scotch usually tastes like a slightly watered down and less robust version of mezcal. I am probably not drinking the right ones, but I cannot recall a Scotch that has filled my palate like so many mezcals I have had. Still, I can enjoy Ilegal Smooth when I drink it, even if it leaves me wanting a bit for mezcal. Of course everything I drink leaves me wanting for a mezcal – a Coke Zero, a chocolate shake, strawberry smoothie – you name it!
With Ilegal Smooth, I definitely get a bit of the smoke, butterscotch and vanilla that I find in Ilegal Reposado, and I think it is very enjoyable. Would I be happy sipping it? Yes, but if an Ilegal Repo or other aged mezcal were nearby (Espiritu Lauro or Agave de Cortes, for example), I would grab them first.
So then, I wanted to see how this would fly in a cocktail. I did a bit of searching around and found a number of Scotch-based cocktails use L'Orgeat, which is an almond liquor, so I bought a bottle of that. Then I made this:
2 oz Ilegal Smooth
.5 oz L'Orgeat
,5 oz fresh lemon juice
Orange twist to garnish
And it is winner! For me, it brightens up the Scotch and the underlying smokiness from the mezcal pulls through – an excellent cocktail! I have no doubt there are a lot of other interesting drinks one can make with this, and I will be looking for more. If you have a few ideas, please chime in!
Ilegal Smooth retails for about $22, so if you are curious, it is pretty much a no-brainer to buy a bottle! It is half the price of what I usually make mezcal cocktails with and a great substitute. As they have just released it this month, the challenge is where to find it. I found it at HiTime Wine for $18.99, but alas, they will not ship to New York anymore, though there are many states they do ship to. You can also find it at Total Wine in FL and CA and WB Liquors in TX, among many other places. Pretty strong distribution in OK as well. It is making its way to NY apparently and hopefully to a place near you soon enough!
In closing, I'll reiterate you should drink what you like, and if it is mezcal or Ilegal Smooth, all the better!