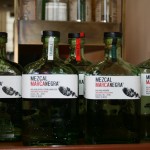 Marca Negra has been around for a few years – guessing that they came into the US market in 2011.  I have always liked their super cool funky green bottle with the black hand print running from front to back, and found their mezcals to be really good.  The first iteration of the brand was Mano Negra ( the Black Hand), but they had some trademark issues so they changed the name to Marca Negra (effectively, the Black Mark).  I think I first tried it at Pulqueria in NYC about 3 years ago – it was their tobala and it was excellent!  I looked forward to trying more.
Since that first tasting, I have bought a few more bottles over the years in exploration of the brand, and my mezcal-y mother-in-law swears by their espadin!  But I do not see the brand around NYC that often so I have not tasted all of their offerings.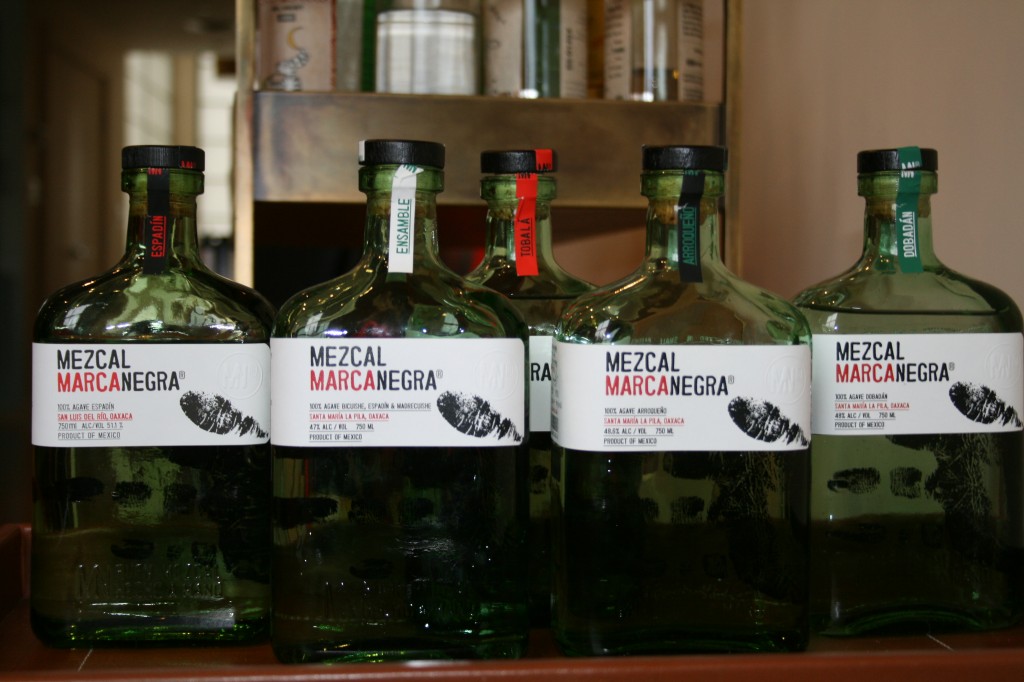 Then about a year ago I was in Oaxaca, and I met the founder of the brand, Pedro Quintanilla, a very nice guy who I am happy to drink mezcal with anytime! He promised to send me a bottle.  Never came.  And that is not very unusual as it happens with a fair amount of regularity (I never take it personally, though as a business guy I find it to be a bad practice).  Then this summer (are you still with me?) in a thread to one on my posts I mentioned that Pedro never followed through.  I quickly received an apologetic email from Pedro which was soon followed by a delivery of three 750ml bottles of Marca Negra!  Maybe I should call people out more often??
But 3 bottles?  Very generous.  Overly generous.  He sent an arroqueno, a tobala, and an ensamble.  So then I went out and bought their espadin and their dobadaan – I wanted the complete set!  With all five bottles now in hand, I felt a review was in order.
(Reviews are tricky sometimes and I really do not do that many.  I should do more.  I will do more.  But they are tricky because sometimes people are kind enough to send me a sample, but then what do I do if I don't really like it?  Do I bluff and say I like it anyway?  Hmmmm….not really my style.  Or do I write something negative about a well-intentioned premium brand that generously sent me a bottle?  That's hard for me to do as well.  So usually what I do is simply say nothing.  If you have sent me a bottle and I have not reviewed your mezcal, it may also just be that I am way behind, which I am!).
If you are regular reader of the blog, you know that while I don't do many full blown brand reviews, I frequently make qualitative comments about mezcals I am drinking on any given night (or morning).  I put a lot of these one-off micro-reviews on FB and Twitter.  And I only tend to do full brand reviews if a brand has a lot to offer, such as multiple expressions – be it agave varietals, special bottlings, or repos and anejos, for example.
Man, enough said.  Let's taste some mezcal!  So I have all 5 of Marca Negra's offerings (though they tell me a tepeztate is on the way soon as well).  And I really like what they are doing here.  Let's check them out:
Arroqueno.  When I first tasted this several months ago, I thought it was good, but I was getting a bit of alcohol on the finish (at 48.6% ABV this would not be very unusual).  And a great arroqueno would not have that in my view.  I mentioned this to Pedro and he suggested putting the bottle in a dark place for a few months to let it mellow since this batch was literally fresh off the still.  So I did that, and man was he right!  It went from good to excellent.  On the nose, I find fresh tropical fruit – citrus, banana, and maybe pineapple.  Rich and fruity!  On the palate, it fills your mouth with robust flavors of fruit and sweet roasted agave.  Really nice.  The finish still fades a bit for me but the prominent alcohol taste has dwindled significantly.  All in all, a lovely arroqueno!
Dobadaan.   Dobadaan and Mexicano are synonymous (same varietal of Agave rhodacantha, just a different name).  I believe the term "dobadaan" was popularized by Jonathan Barbeiri, founder of Pierde Almas.  He told me that he found dobadaan was an old colloquial term for mexicano and it resonated with him, so he used it.  The Marca Negra Dobadaan, clocking in at 48%, is really wonderful.  It is not as fruity on the nose as the arroqueno, but still coaxes you in.  The taste is full of ripe banana, and it also brings in spices like cinnamon and nutmeg.  It is really good and I could drink this all day (at least until I pass out).
Tobala.  The tobala is called the King of Mezcal by many because of its rarity and robust flavor.  While they grow wild, they are also being routinely cultivated these days, making them less

Cultivating tobalas at a Oaxacan nursery

rare.  They may not taste exactly the same, but directionally so.  And if this allows us to drink more great mezcal, I am all for it.  This Marca Negra is made from wild tobala and tips the ABV-scales at 52%.  Wow!  I can only think of one or two bottles in the US that have a higher ABV.  The high ABV can be challenging on the palate because the alcohol can overpower everything else that is going on.  In this case, while present, the high ABV does not overwhelm the mezcal and leaves plenty of room for the tropical fruit flavors to flourish.  But like my original tasting of the arroqueno, perhaps I need to let this mellow in the dark because I do get a bit of medicinal alcohol on the finish.  All in all, this tobala works but I suspect I might enjoy it more if the ABV were below 50…

Ensamble.  This is a 47% ABV blend of espadin, and 2 Agave karwinski varietals, bicuixe and madrecuixe.   And this works big time!  On the nose I get chocolate and oddly, something really candy-like, as in bubble gum or cotton candy.  Really rich and sweet with a bit of chocolate thrown in to balance out the super sweet aroma.   Smells yummy.  And the taste follows in a harmonious fashion with that light bubble gum sweetness and black pepper to bring it down.  It also has a long lovely finish that lingers brilliantly on the palate.  Great stuff!
Espadin.  As you know, most mezcals are made from Agave angustifolia, varietal espadin, so they are quite common.  At 51% ABV this is stronger than most but the alcohol does not overpower the spirit.  It has a nice, soft perfume on the nose.  On the palate I find nice notes of roasted agave and an elegant, medium finish.  Like most espadins, and their accompanying price points, this will work great in a cocktail and you can enjoy it neat as well.
Now that was a fun tasting!  Marca Negra has a really nice line of mezcals.  They certainly do not shy away from bringin' the pain with the high ABV offerings.  But as I look across the 5, the two highest ABV's were my least favorites – these are the tobala and the espadin.  I preferred the arroqueno, dobadaan, and the ensemble, which are all below 50% ABV.  While I almost always favor the arroquenos in such a lineup, in this case I think I would make the ensemble my number one draft choice.  It is wonderfully balanced and just oh so drinkable.
But as usual when I am tasting great stuff, I am splitting hairs – and these are all excellent mezcals.  And everybody's palate is of course different.  And my own palate changes based on so many factors – time of day, what I am eating, who I am with, how MY BOOK is selling.  You know, all those important things!
So if you have not tried the Mezcal Marca Negra offerings, now is the time.  Enjoy and as always, drink mezcal!
ADDENDUM TO THIS POST
After I published this post, the brand owner Pedro, came back to me with a few interesting comments.  First:
"Something that's relevant to the piece you just wrote is that we go the extra mile to bring to market mezcal that is distilled to suit the tastes of the makers and the communities where it originated.  We are not trying to speculate on what the greater market would embrace.  So that is why the last batch of our tobalá is so rich in alcohol content – Jorge and family, that's how they like it.  Same as our espadín, which is also from San Luis del Rio.  Abel, the master distiller, recently got married and at his wedding he gave exactly the same mezcal that was bottled in the current batch (they like their mezcal at 50%-51%). You can't get more authentic than that."
Pedro!  I love this.  Thank you for educating us on why Marca Negra tastes like it does.  This also speaks to the cultural roots of mezcal – it has been made for centuries for the communities in which it is produced.  They are not solving for the equation of what some guy in New York likes.  They are making what they have always made and have confidence that others will want to share their world.  I embrace the differences across brands and varietals as it is core to what mezcal is all about.  Of course I prefer some more than others – we all do.
Pedro also commented on why they changed the name from Mano Negra to Marca Negra:
"In your piece you mention the fact that first off we were Mano Negra which is absolutely right. However, there weren't really issues with registration in the US but there could have been in the future since there is a wine that's called Black Hands, and according to our lawyer (John: it's always the lawyers isn't it?) our registration could've been contested. Then, a few days after we learned about that potential liability, something else came up: a maestro producer asked me why we had named our mezcal Mano Negra since we were all about bringing the truest, most honest product. You see, 'mano negra' is also an expression that denotes that something is fraudulent, that something has been rigged as an election would be, in which case you would say "there was mano negra in that election".  That did it.  Marca Negra was the new name."
Cool.  I like a bit of the back story.  Thanks Pedro.