There was a night a few years ago when I decided to have my own very private mezcal tasting.  I had collected a few very nice bottles at that point and wanted to try them side by side to compare, contrast, and enjoy.  But by myself?  Sure.  Why not?  Just me and my booze.  But my wife was worried about me, my parents called, neighbors knocked, the dog barked (imagine my shock since I don't have one).  They thought I was going over the edge (the edge of glory perhaps!).  But it was alright.  I had a great time and learned a few things along the way.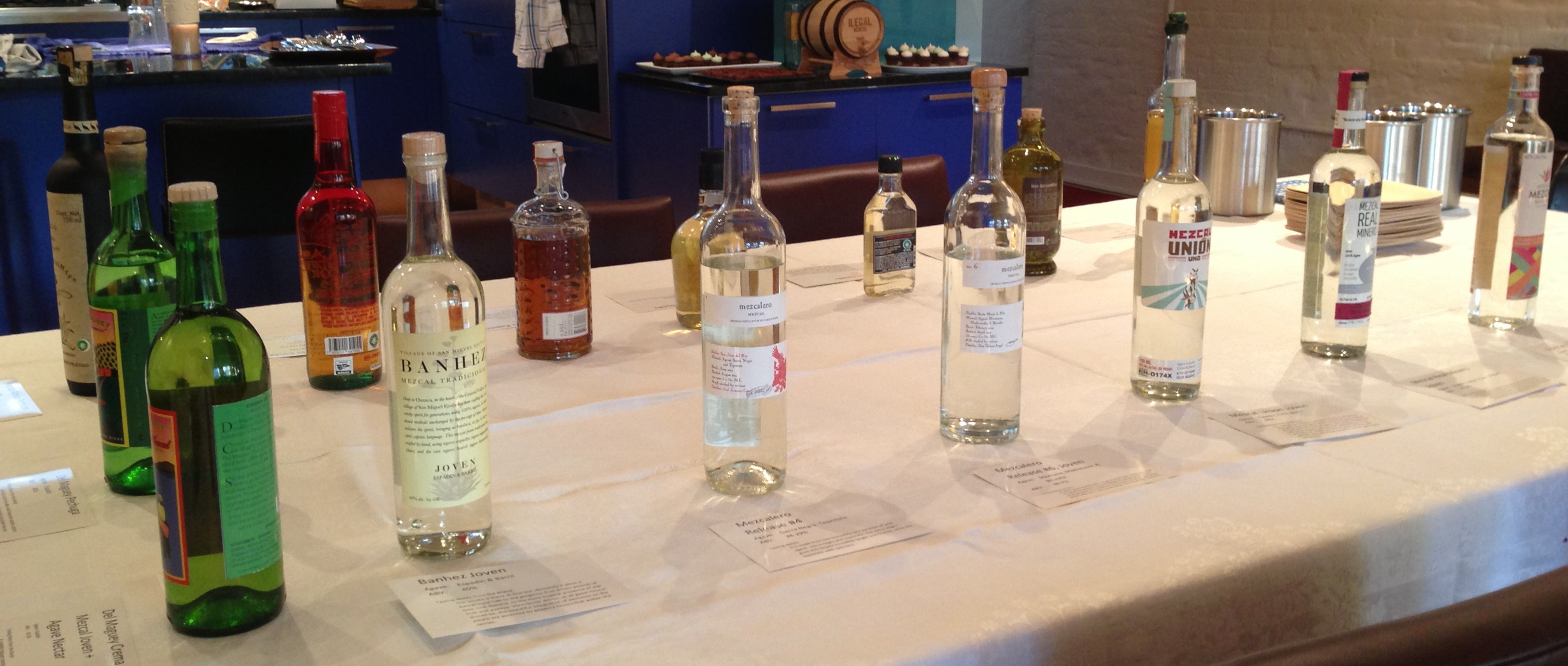 Ever since then, I have been thinking that I need to share this gift with others.  Sure we go out cocktailing or people come over and we try a few, but I have not organized a formal tasting, and in the meantime, bottles (great bottles) keep piling up in our apartment.  Believe me, it is not easy to stash 50-100 bottles of booze in an NYC apartment!  Over the years I have collected quite a few interesting bottles of mezcal, as you might guess – pechuga, tobala, espadin, joven, madrecuixe, anejo, tripon, cupreata, reposado, worms (ugh), and the list goes on and on.  Luckily, I have also collected quite a group of mezcal afficionados with which to share.  But more importantly, just fun people to eat, drink, and hang out with.  As my wife is also an excellent cook, I had the trifecta going for me:  great mezcal, fun people, and exceptional food – all in all, the makings of a sweet mezcal tasting!
I am not sure if you have been to a spirits tasting, but frequently these are sit down affairs with someone holding court on the different spirits, what you should or should not be tasting, and a particular path to follow through the tasting.  While I have enjoyed many in this format, I wanted to do something different, so we kind of made it into a rolling and roving cocktail party.   A bit of do-it-yourself with some guidance from me.
It took some time to come up with the format, and I was not sure it would even work.  But here is what I did.  I carefully selected 33 mezcals for the tasting.  Crazy, right?  Even I thought it was a bit excessive by a factor of 2 or 3.  But I have so many great mezcals, and even after I chopped down the list, I was still left with 33 bottles that I wanted to include in the tasting.
Which bottles did I choose and why?  Well, I really wanted to get as diverse a selection of mezcals as I could, so I would be able to expose the group to the wide ranging differences in brands, production techniques, agave varieties, aging processes, etc.  Also, as a regular reader of this blog, you may be aware that I have a slight fascination with the number of varieties of agave from which mezcal is produced.  So I deemphasized the espadin jovens (though they were still included) and focused more on the silvestres (the wild agaves).  So you will see that some of the more popular brands were not included in the final selection.  No offense to those brands – they just may not have had something unique that I was looking for at this tasting.
After the the bottles were chosen, I made some mainly logical groupings, created tasting notes for each bottle (generally the notes supplied by the brands), and gave everybody a set of "score" sheets so they could make some judgments and collectively reach a few conclusions.  Here is one of the score sheets.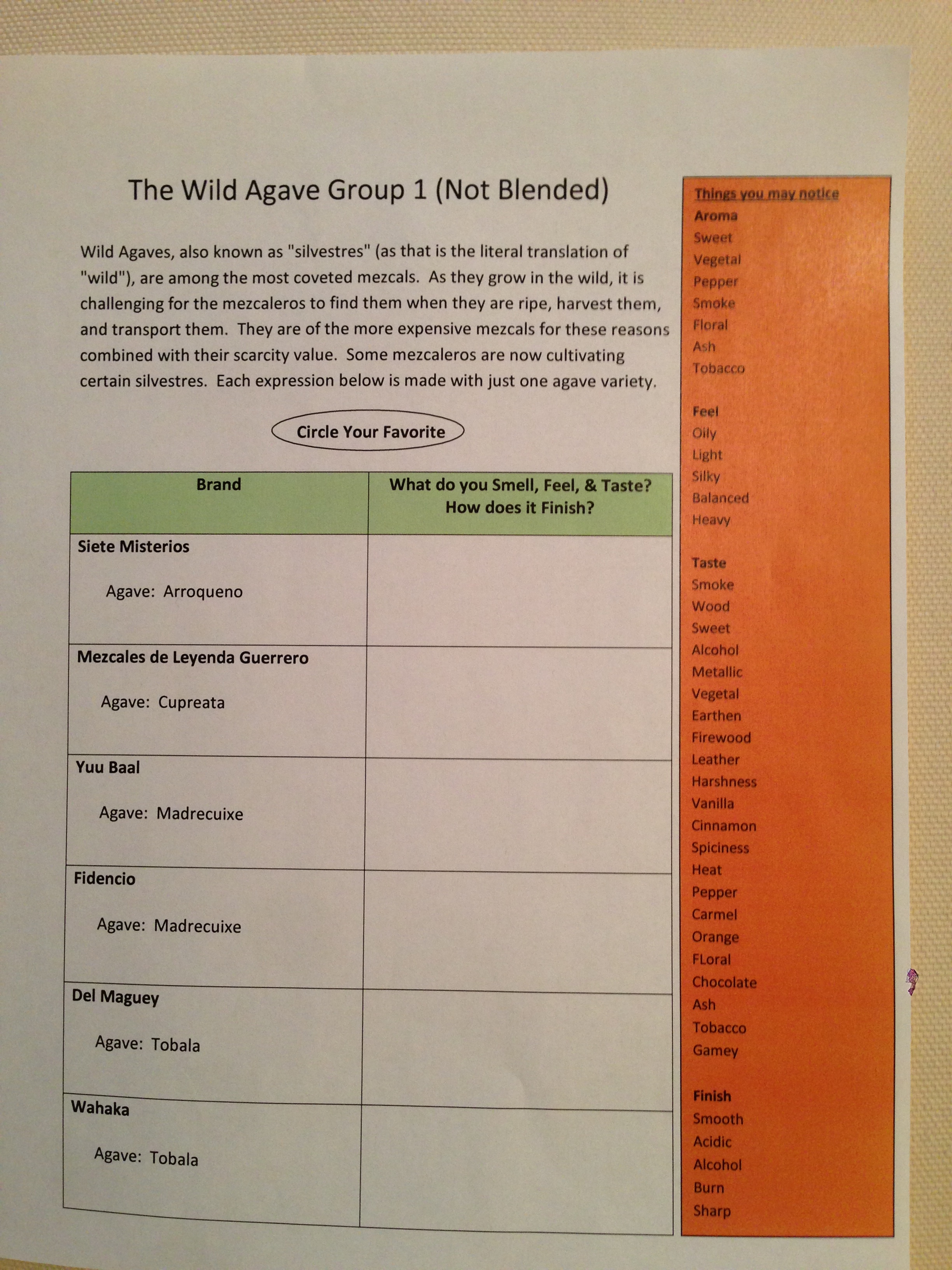 Let's go through the groupings, selections, and results:
The Wild Agave Group 1 (unblended: only 1 agave variety in the bottle)
Siete Misterios Arroqueno:  "socks are officially knocked off", "awesome – smooth", "balances smoke and spicy well"
Mezcales de Leyenda Guerrero Cupreata: "least metallic", "leather", "citrus"
Yuu Baal Madrecuixe:  "smoky", "spicy", "smells earthy", "vegetal"
Fidencio Madrecuixe:  "smoky, "spicy", "thick", "earth"
Del Maguey Tobala: "floral", "sweet", "refined", "fruity"
Wahaka Tobala:  "thin", "light", "floral"
This was the first group and the enthusiasm was strong!  Several were bringing their whiskey and bourbon expertise to the table (Greg and Eric) and had the palates and lingo to talk mezcal with ease.  Others, like Chris, were simply enjoying the unique tastes and subtle to overwhelming difference in tastes.
This first group of mezcals was special and got a lot of people comparing the unique varieties.  For example, you compare the 2 madrecuixes, and they taste completely different.  Both are excellent, but the production techniques clearly vary widely (as may the soil, environment, harvest time, etc) as the taste is distinctly different.
The clear winners in this group were the Siete Misterios and the Del Maguey Tobala.  People kept coming back to these two all night, particularly the Siete (yes Carlos, I am talking about you).  On to Group 2…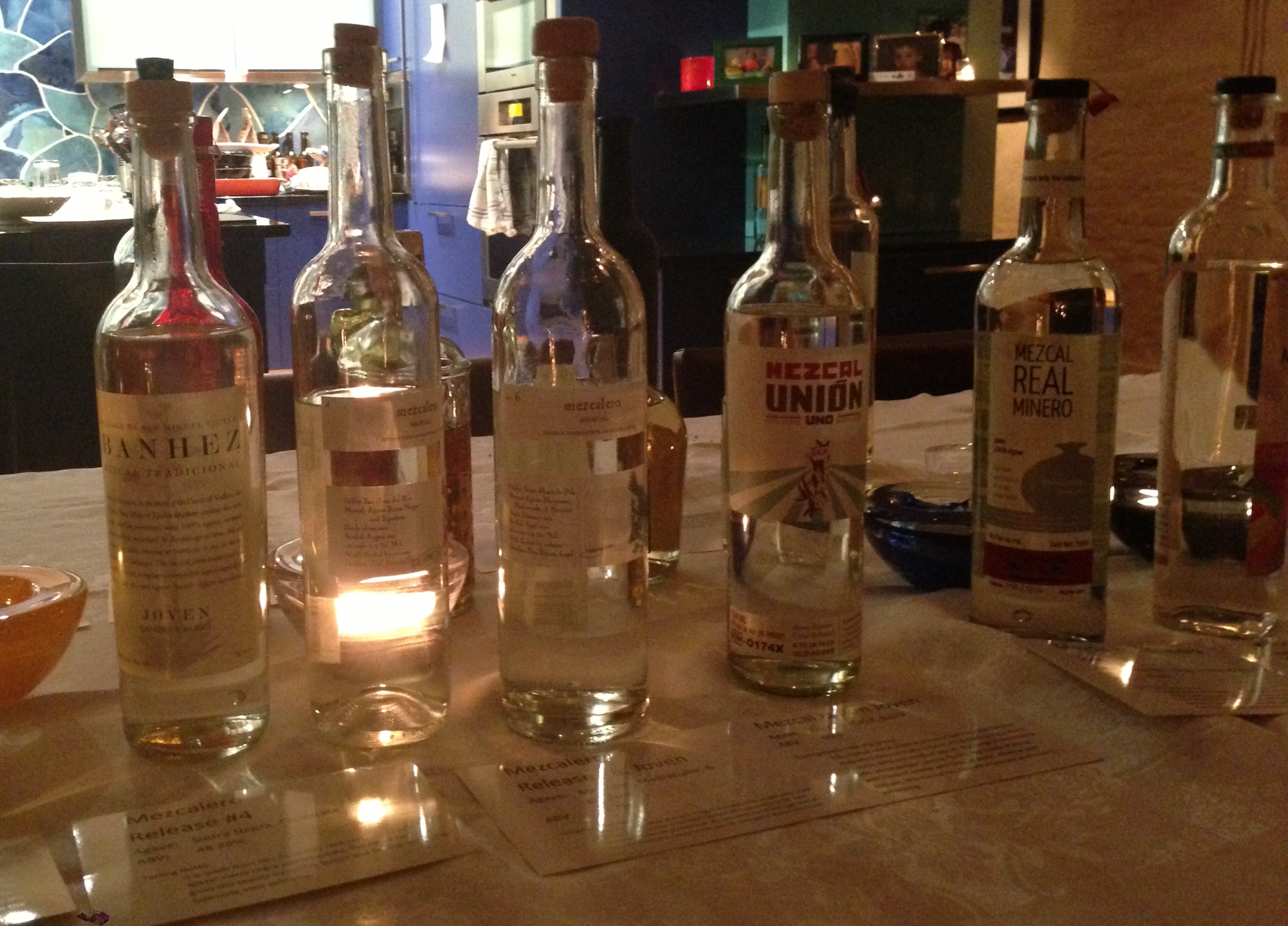 The Wild Agave Group 2 (blended: multiple agave varieties in the bottle)
Banhez (espadin, barril): "banana", "rich" "medium smoke"
Mezcalero Release #4 (sierra negra, tepeztate): "strong spiciness"
Mezcalero Release #6: (madrecuixe, mexicano, bicuise):  "earthy", "peppery"
Mezcal Union (espadin, cirial, barril): "pepper", "balancing citrus and smoke"
Mezcal Real Minero (espadin, largo, tripon, barril): "smooth", "balanced"
Koch el Mezcal (tobala, cirial, tobasiche, de lumbre): "metallic yet sweet", "floral"
This is also a great collection of silvestres.  Now I love the Mezcalero mezcals but surprisingly these were not that highly regarded.  But if you can find Mezcalero Release #2, that is amazing.  While most of the others in this group were highly regarded, the most acclaimed by the group were the Banhez and Koch.  Both are very new to the U.S. market – brought in from the Mezcal From Oaxaca group.  Also, Mezcal Real Minero found a fan in Joyce (good taste as it is the most expensive bottle in the group) and the Union was very well received.  So really, there was not a weak mezcal in this group – all were loved!
The Reposado Group
Ilegal Repo:  "cinnamon", "orange", "hints of vanilla", "caramel"
Metl Repo: "bubblegum", "sweet", "very smooth",
Los Amantes Repo: "woody", "lighter than the others",
Agave de Cortes Repo with Worm: "sweet", "peaty"
Embajador Repo: "light", "watery", "smells better than it tastes"
Los Nahaules Repo: "Tastes spiced:  the Captain Morgan's of mezcal", "cinnamon", "like Scotch"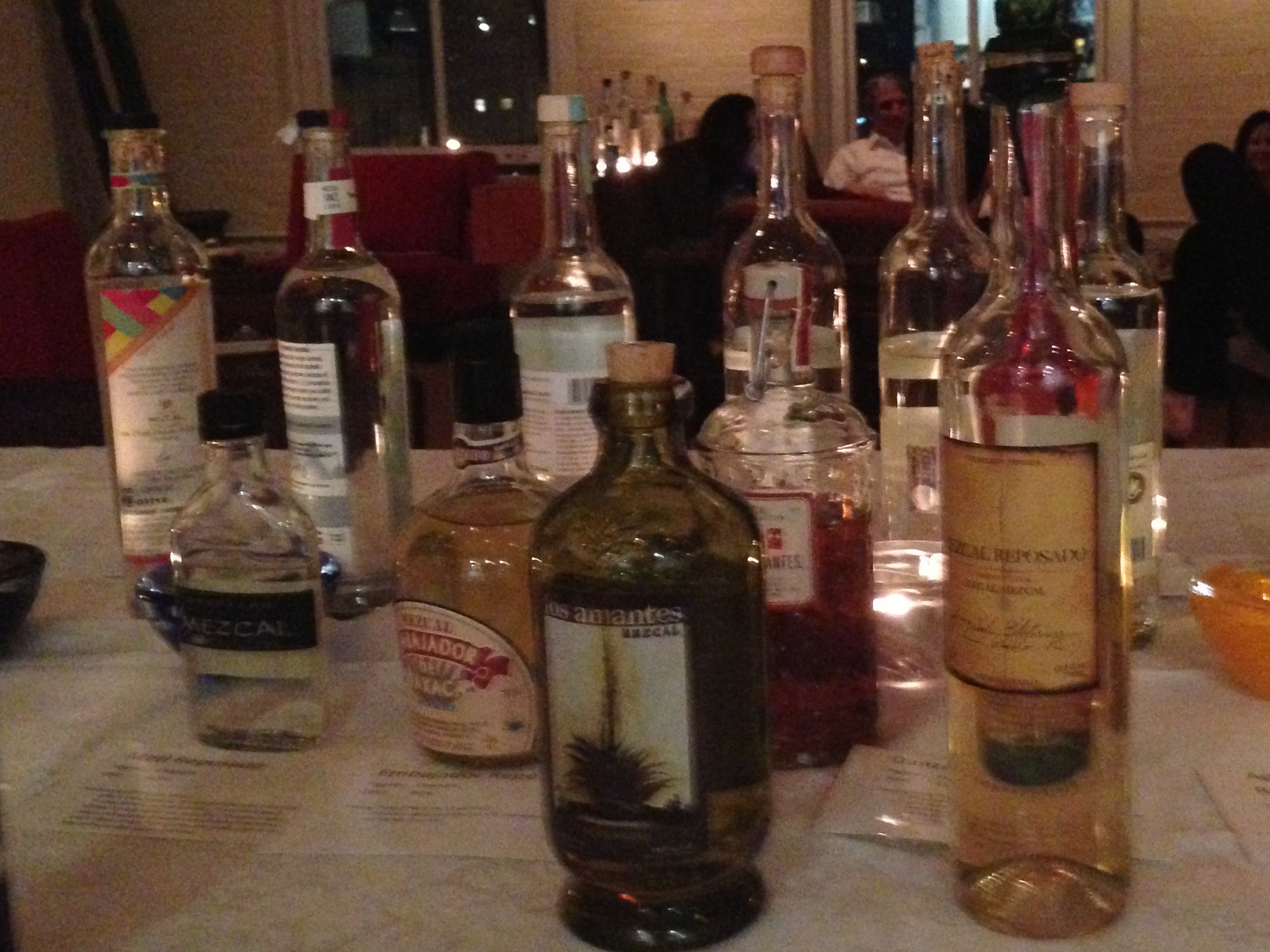 People loved the repos, and many loved the progression here as we moved away from the jovens to the aged mezcals.  Some in the group were not that accustomed to mezcal, so I think it is natural for them to gravitate to the aged, and therefore less aggressive, mezcals as opposed to the jovens.  Ilegal, Los Amantes, and Metl are all made by the same producer, but that's where it ends – they taste completely different – all good, but very different.
The clear winners in this group were the Ilegal and the Los Amantes.  As these two were consistently singled out, a series of blind taste tests began to see which was favored.  Ilegal emerged, but all agreed they are both excellent.
The Anejo Group
Los Nahuales Anejo: "hot, smoky – Scotch like", "strong alcohol", "spiced"
Sacacuento Anejo: "smooth", "caramel"
Ilega Anejo: "yum – buttery and smooth", "great finish of light smoke and wood"
Agave de Cortes Extra Anejo: "love", "complex", "chocolate & vanilla"
Magave Tequila Anejo: "caramel, sweetness",
Hacienda de Chihuahua Sotol Anejo: "very tequila like"
Most people got to the anejos after the other groups.  Some went there early as they were drawn to the sexy bottles and golden colors (early on, I recall Diane camping out next to the Ilegal).  I included a Sotol and a tequila in the group for comparison sake, but they were largely ignored (and who can blame them with the mezcals right there!).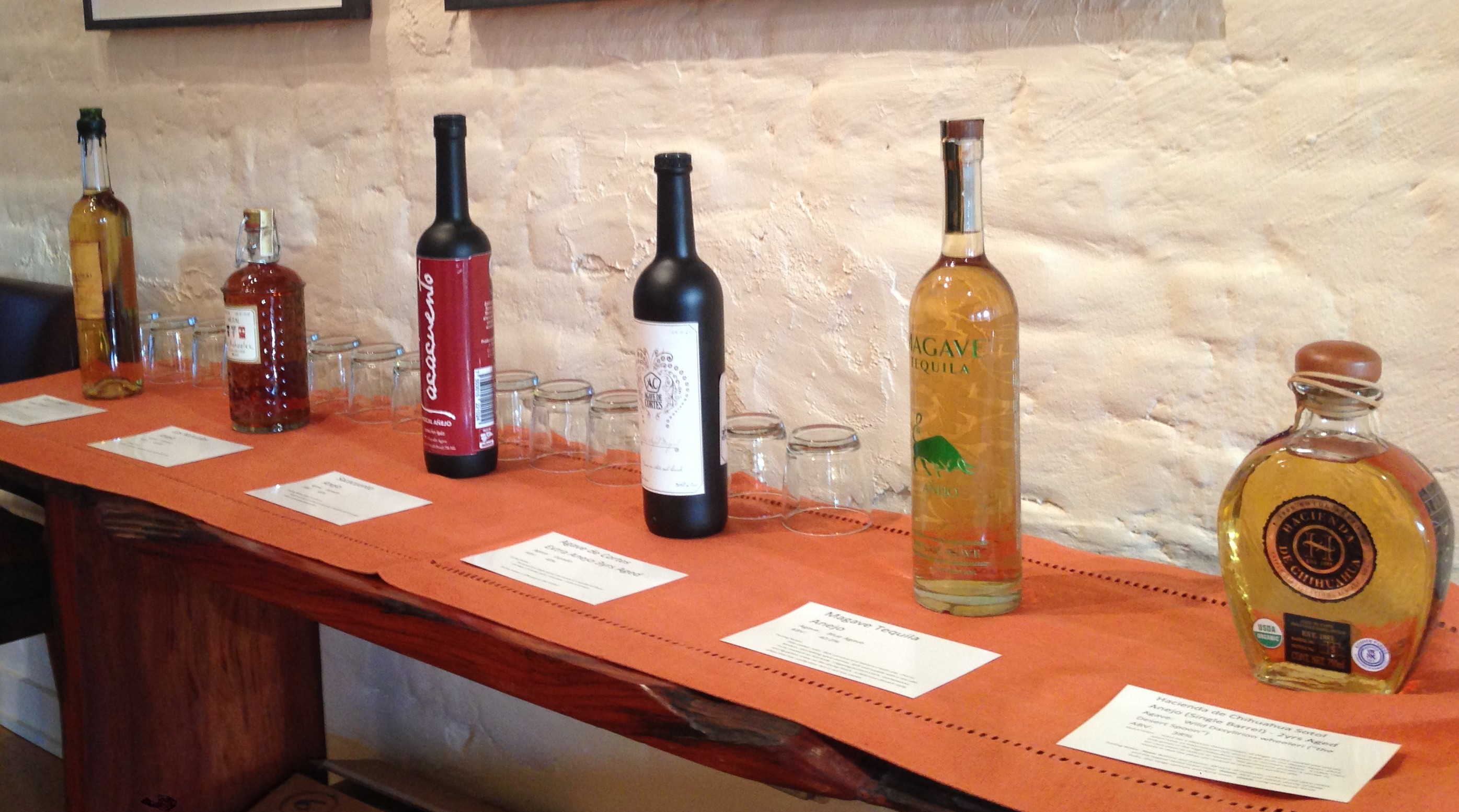 For the 4 mezcals here, the Los Nahuales, while enjoyed, was the least well-reviewed, and the "Captain Morgan's" theme followed from the repos.  The Agave de Cortes Extra Anejo and the Ilegal were the clear winners though.  The only other extra anejo mezcal I am aware of is Scorpion, which has a 5yr and a 7yr aged (maybe a 3yr as well).  I have tried them and they are a bit too woody for me, and they do not use the earthen pits to cook the agave so they are not smoky – so I did not include them in the tasting.  So Agave de Cortes is the only mezcal I know that is an extra anejo and is produced in the traditional way.
So the group could not pick a winner here between Ilegal and Agave de Cortes.  For me, they are both off the charts!  The de Cortes trends a bit toward an extra anejo tequila with much of the smoke toned down and a refined Cognac-like quality emerges.  Ilegal is much easier to find, but if you see the Agave de Cortes, buy it and thank me later.  Alternatively, you could try to steal mine (Alexandra!).
The Gamey Group
Del Maguey Pechuga
Pierde Almas Pechuga
Del Maguey Crema
This was clearly a small group, and I wanted people to try the pechugas.  I threw in the Del Maguey Crema for something different.  While pechugas generally inspire awe in the mezcal world, there was little awe this night.  It was closer to, "A chicken breast?!  Who thought of that shit?"  I tried to help the grasshoppers but had little success.
Also, by this point, the score sheets had pretty much been cast aside, everyone was feeling great, and the pechugas really did not get a fair hearing.
A few people genuinely enjoyed them, but they were the exception.  The Pierde was favored over the Del Maguey, which did not surprise me as the Del Maguey is much more robust in flavor, and therefore polarizing.  The Del Maguey Crema was universally panned.

The Joven Group (Espadin)
Wahaka
Ilegal
Dona Sarita
Espiritu Lauro
Alipus San Adreas
Wild Shot:  "not as bad as I thought it would be", "perfumy"
As this was the last group and scoring sheet, most people never got to these.  That was what I assumed would happen and, therefore, somewhat by design.  I could have put many more bottles in this group, but obviously I had to limit it.  A few of these bottles were never touched, but a few were curious about Wild Shot, and at least one was perhaps almost pleasantly surprised (Chuck).  No winners in this group.  No losers.  Few tasters.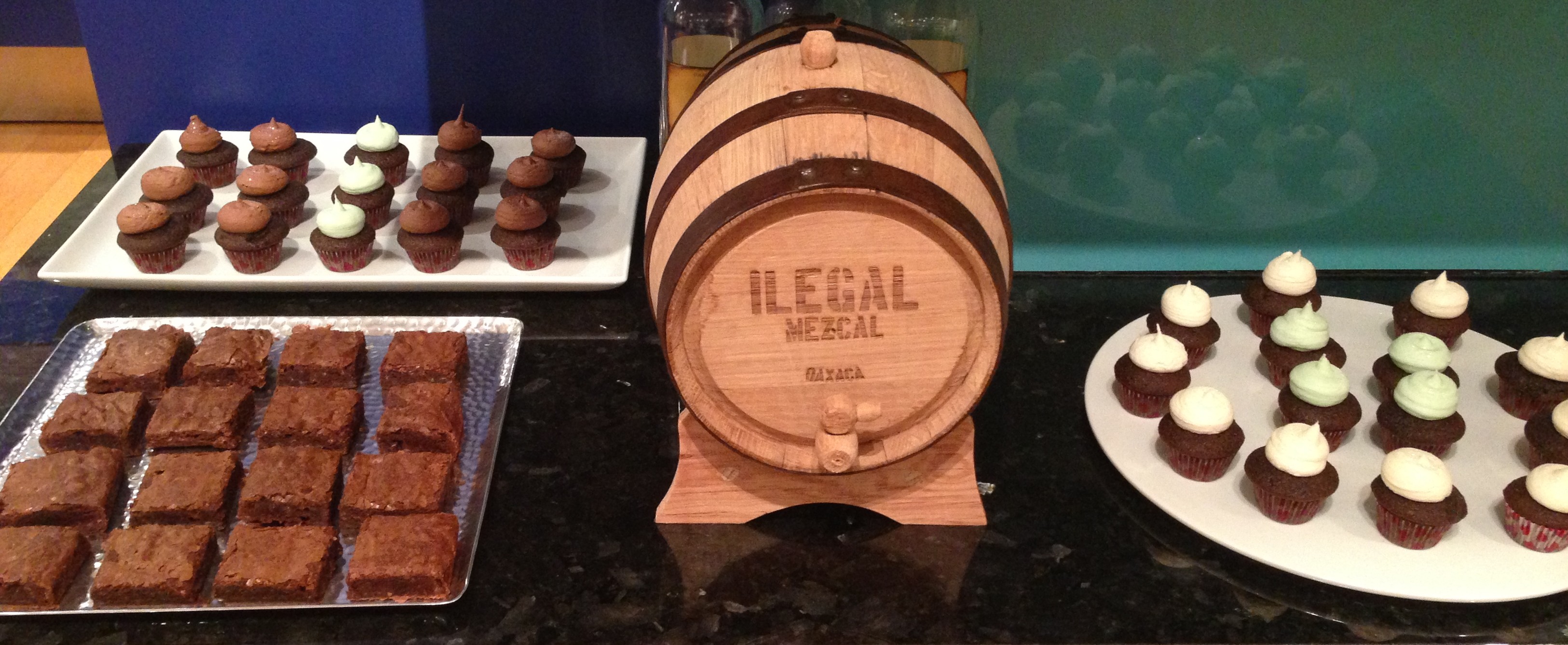 This is the way to finish a tasting! Deserts by Flycakes! (P.S. the Ilegal home aging barrel is amazing and will be covered in a future piece)
So that about wraps it up.  After 3-4 hours of drinking straight mezcal, we throttled it down by drinking mezcal cocktails (good call Tony).  We had a ton of fun, ate well, drank well, and laughed plenty.  I can definitely see this being an annual or semi-annual event.  And with new bottles arriving in the U.S. all the time, I am confident I will have more fine mezcals to introduce to my converted friends.
I hope you enjoyed this piece, and until the next time, drink mezcal!