As a regular reader, you know I have a fascination with the diversity of agaves from which mezcal can be made.  From my-likely-to-be-highly-inaccurate accounting, I am somewhere in the mid-40's of species, sub-species, or varieties of agave from which mezcal is currently produced.
I recently came across an academic research piece from the noted agave expert, Ana Valenzuela-Zapata, that said there were 42 species in Mexico from which mezcal is made.  This is directionally where I came out on my last piece on this topic.  (I got to 47 but I know there is some overlap).  So while the exact number is hard to pin down, and is likely a moving target, my pursuit continues.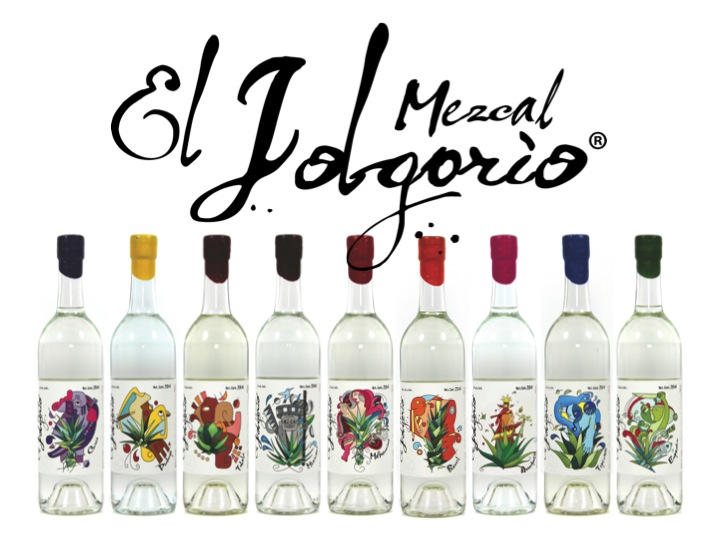 At any rate, not only do I want to know all of the varietals, but I also want to taste all the varietals!  So when Kaj Hackinen (Back Bar Project Importers) was kind enough to send me 10 (count 'em, 10!) sample bottles of the El Jolgorio line, I was thrilled.
While there are many things that influence the taste of the resulting mezcal, the variety of the agave used is perhaps the most significant (I could argue that other factors are equally as important, but the variety of agave is clearly HUGE).  Therefore, given the opportunity to do some side-by-side tasting of a large number of varietal mezcals, my mouth was clearly watering.
Now you may not have heard of El Jolgorio as it is relatively new to the U.S.  Previously, the only expression that was available was the Pechuga, which was brought in by the Mezcal from Oaxaca team, which represents a number of excellent brands.  But now Back Bar Project has the full line, and they are beginning to roll them out.  El Jolgorio is owned by the Cortes family, makers of Agave de Cortes mezcal, which is quite tasty.
There are eight, wild-harvested, varietals (plus a Pechuga) made by seven different Oaxacan master distillers, representing five different palenques.  They have all come together under the El Jolgorio brand to bring these boutique mezcals to the U.S.
Because the focus is strictly on wild agave production, the El Jolgorio line is going to be in limited supply and fairly expensive.  As these are multi-generational mezcal producers, they will be highly cautious not to over harvest more of the wild agaves than the land can sustain.  From Kaj:
"El Jolgorio will not produce more mezcal than the wild varietals of agave can
sustain.  El Jolgorio, like many of the artisanal producers, is fully committed
to the longevity of the indigenous maguey varietals.   Most importantly, El
Jolgorio's top priorities are promoting, but also preserving, Oaxacan culture
through the production and sharing of artisanal mezcals."
Clearly, this is fantastic.  The sustainability of the agave population is an ongoing issue and has recently been highlighted by Zignum's deal with Bacardi (see my recent post HERE).  El Jolgorio is doing it the right way.
They are estimating only 800 to 2,000 bottles per varietal.  From what Kaj told me, the lowest price point will be toward $100 at retail, though they will work to bring that down over time.  However, they also have one cocktail oriented bottle with tweaked branding called Nuestra Soledad (not covered in the below tasting notes), which will be at a more commercial price point.
So let me take you through the nine varietals and share a few tasting observations and preferences.
Arroqueno.  Beautiful aroma of ripe, rich bananas with a hint of lemon.  The taste had a soft smokiness, with balanced roasted agave and spice.  The finish was smooth and easy.  At 53.7% ABV, it is noticably stronger than the few other arroquenos I have tasted, but clearly there is a skilled mezcalero at work here, because you would never guess it is that high in ABV.  It is a gentle giant in that it is full bodied, yet as approachable as your mom on Thanksgiving.
Barril.  Very gentle on the nose with an earthen quality.  Medium smoke, light fruit with citrus tones on taste.  Finish was long and delicious.  Low to medium in boldness, but not for all first-timers due to the pronounced earthiness.  I find this earthiness to be common among all Agave karwinski varietals (barril, cuixe, madrequixe, tobasiche, etc).
Cuixe.  Like the Barril, earthen on the nose, like wet clay.  The taste was spicy and smoky but not overpowering.  Similar to the Barrill in approachability.
Espadin.  Roasted agave on the nose.  Herbacious and green on the taste and a bit sharper than the rest with a bit of citrus at the back.  Still, very approachable like most espadins, but with a bit more intensity, perhaps because this is a wild espadin where most are cultivated.
Madrecuixe.  As this too is an Agave karwinskis, there is an earthy quality to the aroma, though this one is more bold.  The taste is equally forward with a robust herbaciousness.  A polarizing mezcal that works for me, but not for everyone I would guess.  Their marketing material suggests softness and subtlety.  To me, it as subtle as Miley Cyrus on an award show, but I like it.
Mexicano.  Very easy on the nose with smells of roasted agave and maple syrup (Aunt Jamima perhaps?).  Simple and straightforward in taste but beautifully down the middle of the fairway with light smoke, citrus and jalapeno.  There was also something there that I could not quite put my finger on.  I will keep trying though.  This was like an elevated espadin.  It was my wife's favorite.
Pechuga.  A bit gamey on the nose like all pechugas, but lighter.  Similarly, the uniqueness of the pechuga did not dominate the taste as it does with many pechugas, and there were some nice florals and green fruitiness.  The maker says the breast (pechuga) used is one of a "creole turkey rooster", which I am certain I have seen in a James Bond movie, but maybe that is what makes this a more approachable pechuga than many.
Tepeztate.  Whoa.  Bold would be an understatement. On the nose, it is robust and musty (think wet cement).  Simlarly, the taste is polarizing with earthy roasted agave, and only hints of fruit.  Harvested at 25 years (wow!), you will aprreciate the vast complexity of all this mighty agave has endured in its life.  Not disimilar from the few other tepeztates I have tasted, you will either love it or hate it.  I used to be in the later camp, but tepeztates are quickly growing on me, so don't give up if at first you don't succeed.
Tobala.  Very fresh and aromatic with rich dark fruits on the nose.  The taste is of luscious mango and roasted agave with nice viscosity in texture.  Gentle, smooth, and lovely.
All in all, this is a fine collection of mezcals.  Unfortunately the price points are a barrier for many to collecting them all, so choose wisely.  For me, I will probably pick up the Arroqueno, the Mexicano and the aggressive Tepeztate, because not only are they exceptional, but they also round out my own mezcal portfolio (I really like the sound of that: mezcal portfolio).  Also, I admittedly have an arroqueno bias…..things could be worse I guess.
El Jolgorio will be rolling out first in California, Washington, Massachusetts, and Washington, and New York is coming soon.  They will be available shortly through Astor Wines and Andrews Wine Cellar.  If you see it, check the varietal and give if a try.  In the meantime, drink mezcal!
P.S.  If you read this far, here is a note on tasting notes.  It is not easy, and I am not particularly good at picking up some of these things.  I went through three rounds of tastings over a month with these little bottles and kept picking out new and different things each time.  You will taste something, but you can't quite get it, and then you will think "wet cement", and then you are like, "yessssssssss, wet cement."  So don't give up and don't think it is all bullshit, just most of it!