This is the type of thing I love so much about mezcal.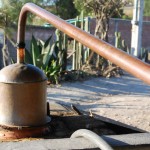 http://oaxacaculture.com/2012/03/five-generations-of-mezcal-making-in-oaxaca/
This family has been making their mezcal since 1795!  The brand is El Cortijo, which I am pretty sure cannot be found in the states.  But I hope to find it on my next trip to Oaxaca.