Now that may sound like a bold claim, but I believe it.  I have gone through a massive mezcal cocktail discovery process, and have made many, tried many, and therefore, consumed many.  It has been hard, as you might imagine.  But through this process, I have not found any that can top these two.  Yes, a few try to approach the pantheon, but they too fall back to just being damn good, not completely awesome.
Both of these drinks take a bit of effort, but I assure you it is worth it.  You will literally amaze your friends.  Some of them actually think I know what I am doing!  I just make these drinks and the people follow.  They become instant mezcal converts.  So here they are:
The Mexican Firing Squad
I saw this cocktail with a tequila, not a mezcal, at the Andaz Hotel in midtown NYC, so I asked them to make it with mezcal, and it worked like a dream.  Here it is:
2.0oz Mezcal
1.5oz fresh lime juice
1.0oz agave nectar
.5oz pomegranate molasses
3 dashes Angosturo bitters
You can buy pomegranate molasses at grocery stores, but I find they taste a bit odd and, besides, they are easy to make.  Just buy a bottle of Pom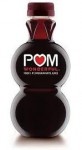 , the bigger the better, pour it in a sauce pan, and simmer it down.  It can take more than an hour, but just as it starts to thicken a little, turn it off.  Let it cool, and then pour it into a container that you can keep in the fridge.  Now taste it.  It is genius!  So rich and packed with flavor it is an awesome balance to mezcal in a cocktail!  It can last for months in the fridge; I have never tested the limits.  But the great thing is, you make it once, and then you can keep on using it.  Since the recipe only calls for .5oz, it goes a long way.  Trust me, it is worth that a small amount of effort.
Back to the cocktail.  Just mix all the ingredients into a shaker, shake it with ice, serve over ice, garnish with a lime wedge, and Holy Pancho Viva Batman!  Amazing mezcal cocktail #1.
Mezcal Con Pepino (Mezcal With Cucumber)
They have this drink at Zengo in midtown NYC.  When I first saw it on the menu, I thought, "Mezcal with cucumber?  That could be funky."  But curious, I waived it in.  And then, WHOA!  It is fantastic!  My version may not taste exactly like theirs because I had to work out the proportions, but here it is:
2.0oz Mezcal
2.0oz fresh lime juice
.75oz agave nectar
2-3 slices muddled cucumber
2-3 slices of serrano pepper
Mixture of crushed chili pequin and sugar on half the rim
The tricky part of this drink is the last ingredient.  Chili pequin can be found at specialty grocery stores like Whole Foods (it is kind of like the flakes of red pepper you put on a slice of pizza or in chile).  But you have to crush it for this cocktail, so that it is has the granularity of salt.  This can be done with a mortar and pestle (hard), or with a spice grinder, which you can buy at Bed Bath and Beyond for $20, if you don't have one.  I know, I know: it sounds like a lot of trouble for what goes on the rim, but it makes the drink.  After you have crushed the chili pequin, mix a bit with a few teaspoons of sugar.  The proportions are like 3-4 teaspoons of sugar to 1 tsp chili peguin.  Once you have crushed the chili pequin, it will last forever, and the mixture will last forever too.  Once you have this, the drink is easy.
Muddle the cucumber and serrano into a shaker.  Pour in the rest.  Shake with ice.  Pour over ice with lime garnish.  Just put the sugar/pequin on half the rim for starters and see how you like it.  It is too hot for some (so you could put more sugar in the mix), or they could just ignore it.  Now the drink is also spicy given the muddled serrano.  Serrano seems to vary in heat so watch the number of slices you muddle in, and adjust to taste.  But when you have it all assembled, YOWIE!  This drink is awesome.  The cucumber is so refreshing, the smoke from the mezcal is present, but not overpowering, and the spiciness brings it all home.  Amazing mezcal cocktail #2.
So there you have it.  As I said, these cocktails take a bit of work and upfront prep, but the results are SO worth the effort.  Can't wait to hear what you think, and would be even more excited if you have one that tops these!