My wife and I went to the Spirits of Mexico Tasting recently at Agave in the West Village.  Overall, it was a fine event which featured many tequilas and a handful of mezcals.  However, I was a bit disappointed that there were not other Mexican, agave-based spirits that were represented.  It would have been easy it seems to get a sotol there, as I can buy them at my corner liquor store (in fairness though, my corner liquor store is pretty adept at agave-based spirits since I am in the neighborhood!).  Or how about some bacanora?  Maybe the vendors have to buy their way in and the other Mexican spirits did not want to play?  At any rate, it would be nice to see them expand beyond tequila and mezcal.
That said, let's take a quick tour around the event and check out the offerings:
The Mezcals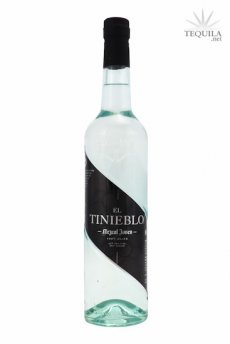 El Tinieblo.  This mezcal is relatively new to the scene, and I have been seeing it around NYC a bit in the past 6 months or so.  The picture here is of the joven, but they also have a reposado and an anejo.  It is from the State of Tamaulipas, and is a blend of 3 agaves: Salmiana, Americana, and Espadin.  It is produced in the traditional, artisanal method of mezcal production, and has been produced on the El Tinieblo Ranch since 1865 (I am guessing that means the ranch has been there since 1865 and there has been mezcal production of some kind since then – still, impressive history).  I had previously tried the joven, and thought it to be pretty good, though not great.  This night, I tried the reposado and the anejo and I thought they were excellent!  I don't love their packaging but I'd rather have good booze and bad packaging than the other way around!  Finally, they would get more love from me if their website was in English!
Los Amantes.  They are not new to the scene – not even close!  While I do not know him, the proprietor of this brand is the owner of Casa Mezcal – a true and excellent mezcal haunt!  I have been there many times (probably due for a review), and I love the place.  At any rate, they too were represented at this event.  I have always thought they have an excellent product, but of course I needed to confirm this with a few sips.  And yep, it is true.  Love the mezcal, but hate the packaging.  Sorry.
Fidencio.  Also one of the early premium mezcals with a fine product.  I have had much Fidencio in my day and have not been disappointed.  They have a tobala and a madre cuishe as well.  All good stuff.
Scorpion.  Definitely one of the early premium mezcal producers.  Perhaps second on the scene behind Del Maguey.  It is an excellent product, particularly for those that do not like their mezcals smoky.  They also have several aged versions as well – up to 7yrs.  Unusual in the mezcal world.  They put a scorpion in every bottle, which personally I am not a fan of.  It is a gimmick that seems to be working for them though, so more power to them.  Nice team they have as well!
I think that was it for the mezcals.  The tequilas that were represented were much greater in number.  I am not going to mention them all, but here are a few highlights (or low-lights).
Milagro.  This is, of course, a well-known brand and it always shows well.  I spent a few minutes talking to Jaime Salas, who is the Brand Ambassador, and he REALLY knows his tequilas and mezcals well – from production to packaging to sales.  I have always found their Select Barrel line to be quite excellent and a reasonable price point.  If you have not tried it, you need to get involved!
Corzo.  Another well-known brand that is really good.  I have always loved their bottle, which is odd in some way because I tend to favor an old school, old Mexico, classic look in my tequila and mezcal packaging.  Corzo has an ultra-modern look, but elegant enough to be called classic.  Plus, their tequila is excellent!
Montalvo.  This is a new brand on the scene.  Strangely enough, Shaquille O'Neal endorses the brand.  They said he has invested money, but that is not verified.  But you can find him Tweeting about it at any rate.  So from now on he is the Big Agave!  But it seems like a odd connection, right?  Have you ever thought of Shaq as a big tequila drinker? Barkley, yes.  That guy would drink anything!  But Shaq? If their product was weak, maybe they would need someone like Shaq to get them noticed, but I am here to tell you, it is not weak.  Their calling card is that it is triple distilled.  Did it make a difference?   Yes.  It was very smooth but still maintained the character of the agave.  And the anejo was really good.  So pick up a bottle if you see it because this is fine tequila!
Apocalypto Tequila.  Wow.  I am not really sure where to start here.  The first word that comes to mind is "abomination".  Or perhaps, "you've got to be kidding me".   
This is the bottle.  It is a-crap-olypto.  I wish I could find a picture that truly does justice to this horrendous creation (should I express myself or continue to hold back?).  But when I go to Google images, all I get is Mel Gibson shots from the movie by the same name.  Which, I think is what 99% of people will think of when they hear about this brand.  Yes, I'll have my tequila with a side of face-painted Aztec treachery.  The bottle is actually two faces split down the middle: one side is a jaguar, the other side is a sort of human face.  I mean you have to see it in person to see how truly god-awful it is.  It was all I could do to keep a straight face while talking to the brand rep.  Also, their slogan is "The perfect beginning.  The perfect ending."  Of the world perhaps, if this brand is a success.  The apocalypse is truly upon us if this makes it.
Tequila Diego Don Santa.  So below on the left, I have the bottle of Tequila Diego Don Santo.  On the right, I have a bottle of Corralejo.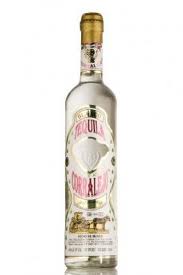 Hmmm.  They look strikingly similar.  In fact, when I approached the booth, I said, "Oh, Correlejo is here."  But no, it is Diego Don Santo.  I asked the reps that were there who came first, Corralejo or Don Santa?  They said "they came out at about the same time."  Really?  Hacienda Correlejo was founded in 1775.  I cannot find evidence that Don Santo has been around for more than about 5 years.  I don't know how long Correlejo has been using their distinctive tall skinny bottle, though my friend Mario gave me a bottle sometime in the mid-90's.  But I am thinking Don Santo began using that bottle with full knowledge of Correlejo's existence.  I could be wrong, and please tell me if so!  In the meantime, I will look askance at Diego Don Santo.  I will ignore it.  It could be good too.  Can't remember.
There were a number of other tequilas there, but this post is long enough!  If you were there, and something else caught your eye, let me know.  Let's compare notes.  For now, drink mezcal.