I curse the worm!  Well, OK, that may be a bit dramatic, but I am definitely not a fan of the worm.  The only good place for a worm is in the mouth of a fish.The worm I am going to talk about today is more correctly referred to as a larvae (a gusano in Spanish), and can be frequently found in the bottom of a bottle of mostly BAD mezcal.   There are two types of maguey worms that infest (that's right, infest) agave plants:  white maguey worms and red maguey worms.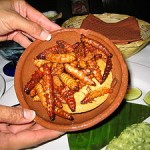 The white maguey worms, known as meocuiles, are caterpillars of a butterfly.  The butterflies deposit their eggs at the heart of the leaves of the agave.  The larvae then eat the flesh of the agave stems and roots, sometimes boring out the agave completely.
The red maguey worms are known as chilocuiles, chinicuiles or tecoles, and are the larvae of a moth.  These infest the core and roots of the maguey plant, often in a glutenous mass.  Who wouldn't want to eat a glutenous mass??  Let's celebrate these majestic creatures by putting them in the fine spirit known as mezcal!
Yep.  So that's what they are.  That's what some mezcal producers, but not many premium mezcal producers, put into their bottles.  But why do they do it?  Is there an ancient Aztec tradition that they are adhering to?  Did Mayahuel feed her 400 drunken rabbits worms?  Nope.  It is nothing like that.  You may also hear that it is a way that the master mezcalleros make sure the alcohol content is just right (if the worm is alive and squiggling, not potent enough; if it is decaying, too strong).  Not true either.  And then some also say they put the worm in mezcal because the worm, if eaten, has a drug-like or hallucinogenic effect.  This too is BS.
Here is why they are there:  In the 1950's, some marketing guy wanted to attract more attention to his mezcal, and he came up with putting this pest into the mezcal bottle (where were the Mad Men when we needed them?).  Apparently it was a gimmick that worked with the tourists, mainly, and many other mezcal producers followed suit.  Unfortunately, it was all bad mezcal, and mezcal became known as a bad spirit with a worm in it.  The early mezcal that came to the U.S. all had worms and U.S. tourists also came back from their vacations knowing that mezcal, 1) tasted like crap, and 2) had a worm in it.  This was the reputation of mezcal for some 50 years!
Thankfully that is now changing, or has largely changed already.  Del Maguey started the ball rolling in the late 90's with their fantastic Single Village Mezcals.  After mezcal was certified by the Mexican government in 2005 (see my post on Mezcal 101 for more detail) amazing premium mezcals started coming to the U.S.  In the past 5 years or so, outstanding mezcals such as Ilegal, Sombra, Fidencio, Mezcalero, Los Amantes and many more have also helped establish mezcal as a premium spirit.
So why brands like Wahaka, which has some fine mezcal, also have a con gusano (with worm) version is beyond me.  I understand why Toby Keith at Wild Shot puts a worm in his (something to do with the fact that he is an idiot), but Wahaka?  I don't get it.  But let's not dwell on these guys.
Let's end this post by celebrating the premium producers who are bringing extremely high quality, worm free mezcals to our palettes, and doing god's work (Aztec gods anyway) to enlighten us all on how fantastic good mezcal can be!